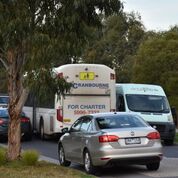 By Brendan Rees and Cam Lacadou-Wells
The City of Casey is calling on the State Government to take urgent action to review Cranbourne's bus network.
Council resolved to write to the Minister for Transport Jacinta Allan requesting Public Transport Victoria (PTV) to include more of Cranbourne's bus services in its 12-month review after four new bus services were added and another 12 routes were realigned to connect residents to trains in November 2016.
Mayfield Ward Cr Amanda Stapledon, who spoke to the motion at a council meeting held on Thursday 9 November urged the State Government that the review should be extended to Route 792 (Cranbourne Station to Pearcedale), the removal of a bus stop and shed at Rochester Parade in Cranbourne East, and route 893 (Cranbourne Park Shopping Centre to Dandenong Station).
Also added to the motion was that PTV be encouraged in the "strongest possible terms" to conduct a public meeting they promised residents affected by bus route 792.
Mayor Geoff Ablett said PTV's "lacklustre" consultation with residents and the way they implemented new bus routes "leaves a lot to be desired".
He raised the motion because PTV said that route 792 would not be included in a review of bus infrastructure despite PTV promising in a public meeting to consult on the route's problems.
"If you promise someone something you should deliver it."
"The review was pretty much what they decided," he said.
Cr Ablett referred to a female constituent who had to stop work due to the stress of the bus stop being placed in front of her house.
PTV held a two-week consultation period online on 16-29 October but Cr Wayne Smith said Lynbrook residents claim they couldn't log onto the survey.
Cr Stapledon said the PTV "did not even mention Lyndhurst in any of their consultation. It's really a survey saying asking us to tell them how well they've done.
"What gets me the most is residents at a retirement village lost the bus route completely," adding the elderly were most dependent on public transport.
She said there was no off-street parking in Rochester Parade, and suggested an alternative route on Alpine Heath Way.
"We've offered solutions. We just want commonsense to prevail here."
Lyndhurst Bus Network advocate Gabrielle Williams said the survey did not allow Lyndhurst residents to have their say about the bus route 897 (Clyde to Lynbrook Station).
"We have always been left out of the consultation process and have never been able to communicate our concerns as a community."
Lynbrook Residents' Association committee member Paul Graham said:
"There was nothing to say this is total rubbish and you've taken away my service or this is pretty average. It was all degrees of goodness which is just ridiculous."
Hunters Green Retirement Village Residents Group member Hans Mook said he was most "disgusted" that a discussion never took place with the removal of Rochester Road bus stop and shelter.
A Transport for Victoria spokesperson said the survey attracted 542 responses for "very minor changes" to the Cranbourne bus network.
Transport for Victoria have proposed a change for the Route 792 bus service include extending every service from Cranbourne Station to Pearcedale, and boosting the daytime frequency of buses from every two hours to every 45 minutes for Pearcedale residents.
Route 893 services could also be extended along Lynbrook Boulevard to allow locals to get to Lynbrook Village Shopping Centre, from either Dandenong Station or Cranbourne Park Shopping Centre.