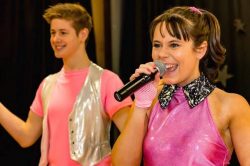 By Brendan Rees
Popular children's entertainer Bethany Fisher will perform a high-energy show with singing and dancing at the Cranbourne-Narre Relay for Life this weekend.
"I'm excited to be taking to the stage Sunday morning to get everyone up and energised for the last hour of the walk," Bethany said.
Cranbourne-Narre Relay For Life committee member Brooke Hunter said: "We are very excited to have the extremely talented and energetic Bethany Fisher performing at the event, which raises money for the Cancer Council."
Bethany, who works as a dentist and specialises in paediatrics, will also perform at this year's Berwick Carols on Friday 15 December.
Her manager Tess Mitchell said: "Bethany will be warming up the crowd with her high energy, interactive non-stop singing and dancing show including her very own original Christmas song.
"With 45 performances this Christmas season, Bethany is thrilled to be returning to the wonderful people of Berwick."
She said Bethany and her Kidding Around team had performed at more than 700 events and festivals throughout Australia, including Carols at the Domain in Sydney for the past three years, Dennis Walter's Carols by the Bay (Geelong), Moreton Kids Festival (Brisbane), EKKA (Brisbane), the St Kilda Festival, Melbourne Day and Good Friday Appeal.
"Bethany is very involved with children's charities and is a regular performer at the Royal Children's Hospital, Variety Christmas Party where she will be performing for the seventh year and Very Special Kids."
"With Christmas being Bethany's favourite time of year she has recently filmed a Christmas DVD, along with her already released Christmas CD, which both contain different but sensational upbeat and catchy tunes for this year's festive season to coincide with her massive show schedule."
Bethany has also had lead and guest roles in films and on television including The Hollowmen, Neighbours and Blue Heelers, commercials, theatre and voiceovers.
The Cranbourne-Narre Relay for Life will be held on 18 November at 4pm and 11am on Sunday 19 November at the Casey Fields Athletics Track.