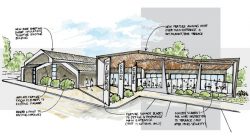 By Brendan Rees
Cranbourne is one step closer of turning the old Cranbourne pool site into a cinema and entertainment complex.
City of Casey manager Statutory Planning and Building Services Duncan Turner said council received a report addressing the vegetation on site in Grant Street from the applicant in the past couple of weeks, and referred it to Department of Water, Land and Planning (DEWLP).
"DELWP has consented to the application being made on Crown Land. Council now has a complete application and will work to advance the planning assessment and make a decision as quickly as possible."
In July, 2017 Cranbourne News reported TM Design Group was the front runner for the development.
Council's approval for the application comes after waiting for the applicant to provide further information to enable an assessment of the application, including a report addressing the vegetation on site.
Council had extended the time for the applicant to submit this five times over the past 12 months.