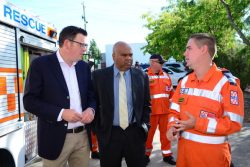 By Brendan Rees
Cranbourne is one step closer to receiving a new SES unit.
Premier Daniel Andrews said the State Government had held discussions with Casey council to identify a suitable site for an SES unit in Cranbourne.
"We provided significant funding – I think it's the biggest funding to SES the state's ever seen, and there's been locations nominated, at least funding has been provided to build stations at Clyde and Officer, and we're working closely with the council to find those spots," Mr Andrews said.
"I think SES brigades would want us to take the time to do this properly; it's a significant boost, it doesn't come along that often, and we want to make sure we find the right spots."
"We're wasting no time on this, the budget was only in May, and we'll have some positive announcements to make quite soon," he said.
Casey councillor Amanda Stapleton said council had successfully advocated for a SES unit at Cranbourne.
"The City of Casey continues to work with VICSES to progress the preferred site at Cyril Beechey Lane," she said.
"Council is eagerly awaiting an application for a planning permit from VicSES."
"The Narre Warren SES advised us that a Cranbourne SES would take pressure off their only unit in Casey and would significantly improve response times to emergencies in the southern part of Casey which will give confidence to residents for greater safety to our Casey residents," Ms Stapleton said.
Narre Warren SES Unit controller Clinton Brown said an additional SES unit would greatly help SES to serve the rapidly growing population in Casey.
"It would certainly help alleviate some of that pressure from those high growth demand areas. It will give the opportunity for some of those people down in Warneet and Blind Bight to volunteer and participate as well," Mr Brown said.
Mr Brown said it was important the right location was selected for a Cranbourne unit, adding it was "better do it right than rush it."
Member for Cranbourne Jude Perera said Victoria SES had engaged with local government and other agencies to identify suitable sites for the new $2 million facilities for Clyde and Cranbourne.
"This is supported by the government's work to improve the certainty of tenure and funding for VICSES units across the state," he said.
"I am always advocating for strong investment and better facilities when it comes to our local emergency services. Our local emergency services teams work so hard on the ground and subsequently play a huge role in saving lives. I am currently working hard on an additional CFA station in our local area to support our current outstanding Cranbourne CFA team and volunteers," Mr Perera said.
Mr Perera said the State Government had invested more than $34 million to ensure SES had the vehicles, equipment and facilities needed to continue to provide their valuable service to the community.
The investment included six new SES units in Caroline Springs/Plumpton, Clyde, Craigieburn North, Cranbourne, Officer and Point Cook where there was a growing demand for SES services.
Mr Perera said the government had invested $14.9 million to cover the costs of SES units located on council land, providing an incentive for local government to provide long-term leases and give SES units across the state more certainty about their future.