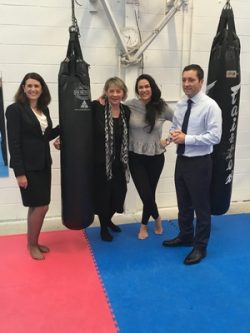 By Brendan Rees
Kimekai Mixed Martial Arts gym owner Leirosa Patterson has then power…she's sjust struggling to pay her electricity bill.
Ms Patterson, of Cranbourne, said her energy bill last quarter skyrocketed from $677 to more than $1000 during the second quarter this year.
"For a small business, it's extremely hard," Ms Patterson said.
The mother of three children including an eight month-year-old said it was really hard to get ahead.
"You try as a small business to being your own boss and trying to get ahead for your family and everything like that, but you do count every cent."
"It's gone up over 40 per cent. And I understand that was a lot during winter as well, but at the same time we don't remember ever having energy bills like that," Ms Patterson said.
She said installing solar panel on their roofs was a "big gimic."
"I know a lot of people are regretting getting the solar panels. We have a large amount of solar panels on our roof, and we had a grant total of $35 dollars credit over a $1000 bill."
Victorian Liberal leader Matthew Guy visited Ms Patterson at her gym on Tuesday 12 September.
"We're going to fix this. We're going to keep our power prices low and help businesses like this in here in Cranbourne," Mr Guy said.
He said power bills was one the biggest issues facing the state, and the State Government had to focus on the cost of living.
The State Government, he said, was now pursuing a renewable energy target that would see power bills increase.
"The minister says that bills will come down. Every single piece of evidence says that is completely not the case. It's just an absolute ridiculous proposition to make," Mr Guy said.
"We've got to focus on power bills. Domestic power bills are now some of the highest in Australia, and this means everything for a business like this gym, like all the businesses in this surrounding district."
"If they can't afford to pay the power bills when two years ago there was no problem then, it's directly the government's issue to deal with and this has happened entirely after the closure of Hazelwood where the ACCC found that power bills had an immediate rise as the result of the closure of Hazelwood," he said.
My Guy said if the State Government closed Yallourn W power station, energy costs would go up further.
"The government needs to look at how it's doing business within its own electricity supply with its own concession program. They are way out of control at the moment."
"They are looking after government departments but not small businesses, and so I think the government needs to have a total re-think about the structure market in Victoria," he said.
My Guy said the state needed a better system when it came to renewable energy targets.
"At the moment, it's all about penalties, it's not about incentives," he said.
Liberal candidate for Cranbourne Anne-Marie Hermans said high electricity bills were hurting families and businesses like Kimekai Mixed Martial Arts gym.
"This is a family business and they have three children, they have a baby. They have to be able to eat, they have to be able to survive and they have to be to run their business and how are they going to do that if they can't pay their power bills," she said.
"They can't be in a situation where they shut down and they don't have an income coming in. We have enough of that in Cranbourne already."
A spokesperson for the State Minister Minister for Energy, Environment and Climate Change Lily D'Ambrosio said the Australian Energy Market Commission had confirmed prices would start to come down next year as more renewable energy came online, which was largely driven by Victoria's renewable energy targets.
"Matthew Guy is once again wrong, and will say anything to deflect from the fact that he doesn't have an energy policy."
"The Liberals are once again putting politics ahead of real solutions," he said.