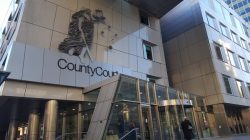 By Cam Lucadou-Wells
A Cranbourne South woman has been jailed for causing the death of another driver's unborn baby during an illegal driving manoeuvre on South Gippsland Highway, Cranbourne.
Dimple Grace Thomas, 32, faced cancellation of her visa and likely deportation to her homeland, India, as a result of the jail term.
Thomas drove across three lanes of oncoming traffic as she exited Cranbourne Home shopping centre's car park about 1.30pm on 8 August 2016.
Her car struck an oncoming wagon driven by 28-week-pregnant mother Andrea Allen with her two-year-old daughter on board in the 80 km/h zone.
Ms Allen's unborn child, Milarniah Oscuro, died as a result.
Prosecutors submitted that Thomas was attempting to illegally cut across and turn right via a gap in the highway's median strip.
She had disobeyed give way and left-hand-turn only signs at the intersection.
On 6 September, County Court of Victoria judge James Parrish said he didn't accept Thomas's assertion that she honestly and mistakenly thought she could turn right.
The intersection with "obvious" signage was designed "unambiguously" for traffic to turn left only, Judge Parish said.
He found Thomas, who'd turned left at the exit at least four previous times, acted in "wanton disregard for the law".
Her version of events was "overwhelmed" by other witnesses' statements. The level of danger was reasonably high, her moral culpability was at least mid-level.
In a statement submitted to court, Ms Allen stated that after Milarniah's death, "the pain and suffering are too much".
Ms Allen felt "alive but doesn't live", "existing but … empty" and not knowing how to live in the world without her daughter.
"Our family should have been complete but now will be forever broken."
Milarniah's father Chris Oscuro stated that the hardest decision was to turn off his daughter's life support. He'd "give up anything and everything" to bring her back.
Thomas needed to be held responsible for her actions for causing the family so much pain, Mr Oscuro stated.
The court heard that Thomas herself suffered a miscarriage months after the crash.
A friend stated that Thomas regarded it as an "act of God" for causing another person to "leave the Earth". ?????
Thomas wrote two letters to Ms Allen, who felt they were focused more on Thomas's own miscarriage and distress than on the victim's family, Judge Parrish noted.
The judge said he had no doubt that Thomas "suffered remorse" for Milarniah's death, but didn't think she accepted "full culpability" for the crash's circumstances.
In mitigation, he noted Thomas's early guilty plea, previous good character, unblemished driving record and lack of criminal history.
Thomas was jailed for two-and-a-half years with a minimum non-parole period of 15 months.
She was disqualified from driving for two years from 1 December 2018.
Outside the court, Ms Allen told reporters that the sentence "can never take back the fact we lost our daughter".