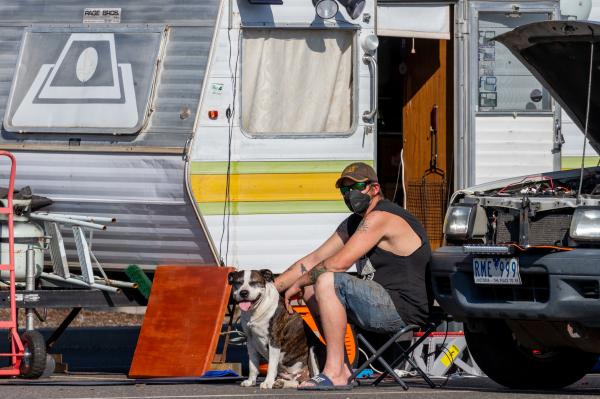 By Brendan Rees
A man living peacefully in his caravan at Casey Fields says he was ordered to move on by a group of council officers.
Mungo Andrew said he had set up his caravan at the grounds of Casey Fields about five months ago after his work in gardening dried up when Covid-19 restrictions began.
But the 40-year-old said he was devastated by the direction to move on as "there's literally nowhere else I can go and I'm being forced".
He said he was previously living in a share house and short-term housing, but had since struggled to find stable accommodation.
"I'm trying to do everything right that I could," he said, before council staff and police officers approached him on Monday 14 September directing him to move on.
He said he left in his caravan without incident but couldn't understand why such a strong police and council presence was needed.
"I can understand that it's a carpark of sports oval, I'm not technically supposed to be here but there's literally nowhere else I can go. This has just left me dumbfounded," he said.
He said he had not once acted aggressive towards council staff, who had warned him to move on last week.
Mr Andrew said he was ordered to move on by a large group of council staff as well as police officers – a claim that council denied, saying police did not attend.
Victoria Police said without further information it was able to confirm whether police attended the address.
Mr Andrew said he hadn't been getting in the way of others while at Casey Fields and kept his area tidy including cleaning up after his dog. He said he was also thankful for residents bringing him hot meals.
He is now staying at a site in Devon Meadows.
He said council had provided him referral information for housing assistance but when he called an agency he said there was "absolutely nothing they can do either".
When asked if he had been offered food vouchers through council's support service Mr Andrew said: "No, not at all. I would like to know why they hell they're coming up with stories like that".
Casey Council acting safer communities manager Christian Gonzalez said council's local laws and inclusion and wellbeing teams had supported Mr Andrew for a number of months throughout the Covid-19 lockdowns.
"We have done this through our service provider partner ERMHA who provided six outreach visits to support Mr Andrew," Mr Gonzalez said.
"In addition, ERMHA has further supported Mr Andrew with food vouchers, food and dog food. Mr Andrew was offered housing options by ERMHA and was referred to Wayss for additional housing support.
"These agencies continue to work with Mr Andrew and are available to help should he require further support."
Mr Gonzalez said the lockdowns had exacerbated the challenges faced by their most vulnerable residents, and council had taken an active and supportive role in linking community members to the services that can best help them.
Anyone experiencing hardship can visit council's 'community resources during coronavirus pandemic' website: https://www.casey.vic.gov.au/community-resources-during-coronavirus-pandemic.