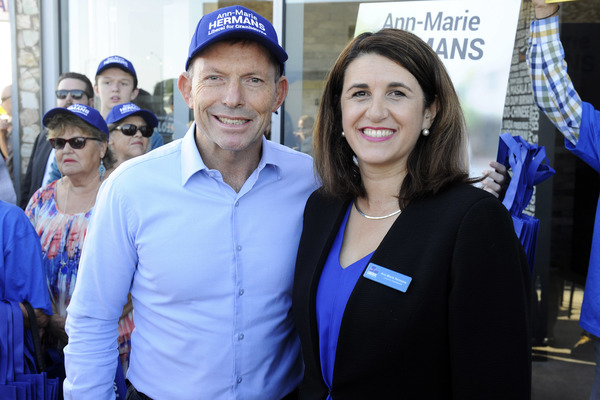 Former Prime Minister Tony Abbott proved to be a crowd favourite during his surprise visit to Cranbourne last Saturday, 17 February, with many flocking to get a photo.
Mr Abbot was in town to officially kick-start the campaign launch for Liberal candidate for Cranbourne Ann-Marie Hermans, ahead of the state-election this November.
Ms Hermans said it was fantastic to have the former PM visit and speak to an enormous local audience.
"He appeals to the heart of the Aussie battler," she said.
"Cranbourne has a lot of families, Catholic and churchgoers, who appreciate Tony Abbott's family values and respect his political tenacity and fair dinkum attitude."
The former PM was given a rock star welcome at a breakfast attended by 250 guests at The Settlement Hotel where he stressed the importance of voting for "good candidates with decent values".
"You are looking for a fair go so you can keep having a go to build a better life for yourselves, for your kids and for your grandchildren," Mr Abbott said.
"It's that have a go spirit, not wanting anyone else to work hard on your behalf, but wanting to be able to do it for yourselves. That's what made this country," he said.
The breakfast was also attended by Liberal Party Victorian president Michael Kroger, the party's federal vice president Karina Okotel, Senator Jane Hume and Shadow Minister for Multicultural Affairs and Member for South East Metro Region Inga Peulich.
Mr Abbott then hit the campaign trail after breakfast with Ms Hermans, donning a blue hat among locals in support for Ms Hermans.
The former PM was given a hero's welcome in front of the Dosa Hut restaurant by a friendly throng of Ms Herman's supporters as well as surprised onlookers.
Senior citizen ladies also lined up to give Mr Abbott a hug him and there was no shortage of supporters wanting to shake his hand.
Families going about their morning shopping looked surprised but excited to see Mr Abbott walking around the Hunt Club Shopping Village, and jostled to have their photo taken with him.
Mr Abbott later joined Liberal candidate for Narre Warren North, Vikki Fitzgerald, and Narre Warren South candidate Susan Serey in their respective electorates where he spent more time meeting locals.
During his time as Prime Minister, Mr Abbott said he was proud that he'd tried "very hard" to get the East West Link built, describing it as the "one most urgently needed piece of infrastructure in Victoria".
Mr Abbott also took a swipe at people wanting to abolish Australia Day saying "above all else we want our country to succeed and we hate people who run it down".
Mr Abbott criticised the Daniel Andrews Labor Government's Safe Schools program, describing it as "social engineering masquerading as anti-bullying".
"We think what poison has entered the system that is supposed to support us and cherish us," he said.