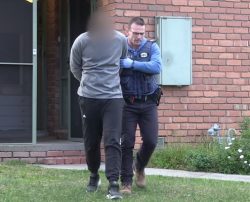 By Victoria Stone-Meadows
A Hampton Park man and a young woman have been arrested after police raided a property on Waverley Park Drive in Cranbourne on Friday 18 August.
Detectives from the Dandenong Divisional Response Unit executed a search warrant on the property at about 6am.
The 20-year-old man was arrested at the scene and charged with a number of offences including trafficking methamphetamine as well as possessing methamphetamine, ecstasy and cannabis,
He is also facing two charges of theft of a motor vehicle, three counts of possessing proceeds of crime and committing an indictable offence while on bail.
A 17-year-old girl was also arrested at property and has been charged on summons for drug possession.
Police seized items from the property in the course of the raid including a trail motorbike and a road motorbike.
Police also removed quantities of illicit drugs from the property including methamphetamine, ecstasy, cannabis as well as an amount of cash.
The man faced the Dandenong Magistrate's Court the same afternoon as the raid.