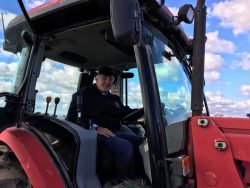 By Casey Neill
Hampton Park man John Follett has been a Dandenong Show fixture for more than 60 years.
His service to the Dandenong Agricultural and Pastoral Society event and other local shows earned him a meritorious service award at the Victorian Agricultural Shows' annual convention which was held in Shepparton on 1 and 2 July.
"John has a wonderful community ethic and dedication, always ready to assist where he can," the convention heard when John received the honour.
"He is probably called on more than his fair share because of his willingness and pleasant manner.
"He also has a wealth of knowledge regarding shows that is invaluable."
John, 74, said the honour rated a close second to the 60 years' service award that Dandy Show legend Jack Rae presented him at last year's show AGM.
"Jack knows me longer than I have known Jack," he said.
Jack knew John's dad, Alf, who was a Dandenong Show life member.
"My grandparents were originally breeding Clydesdale horses where Moorabbin aerodrome is now," John said.
"My grandfather was a trustee of the Heatherton Recreational Reserve in Ross Street, Heatherton.
"The Heatherton carnival and bazaar; my father was president of for a number of years."
From there Alf joined the Dandenong Show in the early 1950s.
"At that stage he was a market gardener at Noble Park," John said.
"Then Dad branched out into cattle, and we had 70 acres at Nar Nar Goon North.
"We sold that and bought this property (in Clyde North).
"We've gradually increased the size of it over the years to having two adjoining properties with the 320 acres."
He has about 160 cattle on the farm, mainly for meat but also for breeding. He has about 12 head on his 10 acres at Hampton Park.
John automatically followed his dad into show life, "which was a custom of families back in those times".
He joined the Dandenong Show committee in 1971, was president in 1981, 2002 and 2003, and served on various sub-committees.
John's been a safety committee member since 2000, security chairman for more than 20 years and the grounds committee chairman since 2015.
John was awarded life membership at Dandenong in 1992.
He received the same honour from the Berwick Agricultural and Horticultural Society in 2007.
He's been a Berwick member since the 1980s, joined the committee in 1992 and is the occupational health and safety chairman.
He attends meetings with the Greater Dandenong and Casey councils to elicit ongoing support for the Dandy and Berwick shows.
John has volunteered on the Pakenham Show gates for many years, and now helps with the broadcast van for public announcements.
He's enjoyed "the friendships that you make, and the appreciation of the effort that you put in".
"I visit other shows as an observer and help wherever I can," he said.
"It's my connection with the land, with agricultural aspects, and the mateships that you cultivate over the years with your involvement.
"I've got friends throughout Victoria and also interstate."
John said he'd be involved with the shows indefinitely.
"Hopefully, they don't have to wheel me in a wheelchair to see it, but I hope to continue my role as far as assisting with the show," he said.