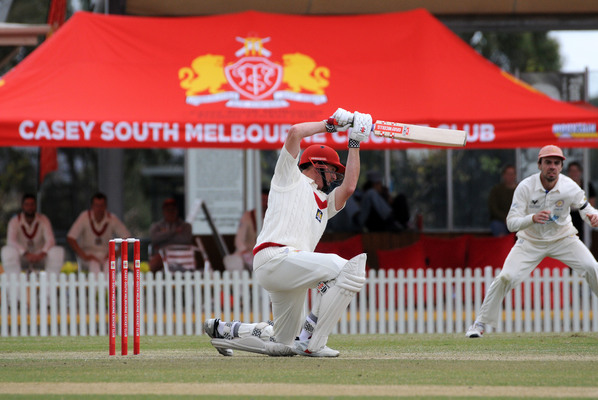 By Nick Creely
Luke Wells is building some sort of record for Casey-South Melbourne in the Victorian Premier Cricket competition.
The stylish Sussex left-hander's leadership and presence at the Swans is noticeable at Casey Fields, whether it's in the field dragging his teammates along, with ball in hand landing his leggies, or with a Gray Nicholls in his grasp.
And after Saturday's brilliant knock against Frankston Peninsula Heat, Wells has now amassed six centuries in just 21 home-and-away innings for the club after entering the competition last season.
In fact, the Swans skipper – who also boasts 18 first-class centuries in the County system – has plundered 1275 runs in those 21 digs at a phenomenal average of 69.5.
This particular knock was crucial in the Swans carving up 7/356 on day one against the Heat after being sent in at home, in a match absolutely vital to the club's finals hopes.
With the Swans 13th on the table, and 11 points adrift of Fitzroy Doncaster in eighth position, there was no room for any slip ups.
In a new-look batting line-up with Nathan Freitag returning to the side to open up with Wells, as well as Dylan Hadfield returning and keeper Devin Pollock dropping back to seven to add another dimension to the middle order, the Swans got off to a flying start.
After negotiating the first hour comfortably – with plenty of boundaries rocketing to the fence – the pair skipped to 77 for the first wicket, before Freitag (50), notching up yet another half-century, fell to English spinner Felix Organ (1/47).
Yet again, Freitag was all class in what was his fourth half-century in a row when playing first XI cricket as he continues to build into a strong season in the top-order for the Swans after returning from Tasmania this year.
Despite a strong period for the Heat – snaring aggressive duo Joel Mitchell and Chris Benedek in quick succession to leave the home side 3/113 – Wells was the key, and in his customary way, managed to keep the score ticking along beautifully while combining that with impenetrable defence.
The experienced Michael Wallace (32) once again provided plenty in the middle-order as he continues his strong form, but once again, the Heat managed to find a couple of wickets to stem the bleeding and reduce the home side to 5/168.
Down the order and adding some stability to the middle and lower order, Wells – and keeper batsman Dev Pollock – went to work in a defining 162-run stand, with the leftie ticking past yet another century, while Pollock used all of his class to provide the perfect foil as the home side flattened the Heat.
Wells finished on 159 off 250 balls to lift past 450 total runs for the season, while Pollock – a player so highly rated as a batsman that can change the game and adapt to different scenarios – remains unbeaten on 62 as the Swans ticked along past 350 by stumps, with rain intervening late on the day.
Swans coach Brian Keogh said that it was crucial for experienced pair Wells and Freitag to get off to a strong start, setting the tone for the day.
"We were going at four an over early, we got off to a really solid start – Tag (Freitag) got one to spin sharply and he snicked one to first slip, but he looked great," he said.
"Wellsy just batted beautifully, he just controlled the innings, it was just a class hand – he scored all round the ground."
Keogh said that the shuffle of the order allowed them to be able to stabilise after a few middle order wickets, particularly with the class of Pollock, who has opened so far this year.
"He (Pollock) just reads the game so well, he's an astute cricketer and we felt him at seven helps close out games or innings," he said.
"We all just felt that the side had better balance having him come in at seven – he's the ultimate team man and he went out and he looked really good."
With Wells continuing to make a huge impact on the competition, Keogh said it was a pleasure to watch him manipulate the field and play a classical knock.
"He drives so well early, anything that's full and a bit overpitched, he drives – to the spinners, he was playing different shots, ramps, reverse sweeps and he just scored all around the ground," he said.
"Because he was seeing the ball so well, and because he's confident in his own ability, he hits the ball in places that are difficult to defend.
"It makes it hard for opposition captains to set fields to him."
The Swans will resume on 7/356 in the 91st over, with Pollock (62) and Nathan Lambden (11) the unbeaten batsmen as they look to pile on more runs early on day two before sending the Heat in to face the music.