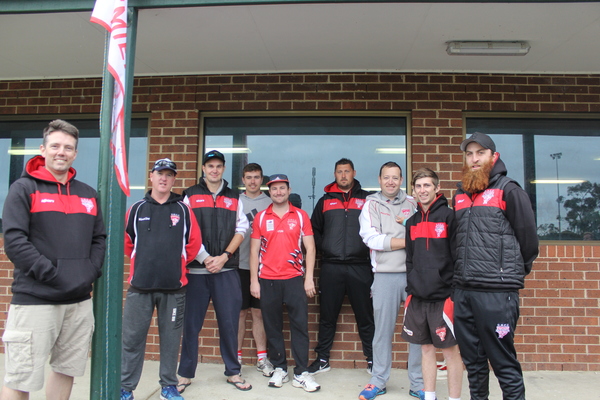 By Russell Bennett
For the Devon Meadows Cricket Club and its faithful, the unfurling of the Panthers' 2017/18 WGCA District division premiership flag on Saturday signified more about what's to come than what has just transpired.
The Panthers are hell-bent on making their 50th season one to remember.
Since last season it had been around 15 years since their last first XI premiership – with a number of disappointing finishes to promising campaigns along the way.
And now that they're into the Premier division for the first time since the competition restructure, they're doing everything they can to stay there.
"We've probably got a bit more depth this year, which you obviously need for the Premier grade," club president Mick Floyd said at the flag unfurling on Saturday morning.
"A lot of clubs have gone up to Premier (from District) and either just held on or gone back down straight away for various reasons, so we were pretty determined for that not to happen with us.
"We found before the restructure (from A Grade to Premier, District, Sub-District) that we were that side that would win three, four, or five games so we were never really in relegation danger but were never really a finals contender either. It doesn't improve your cricket if you're not playing in meaningful games for large parts of the season.
"It was important in the off-season to add a bit of depth and not have to rely on one or two guys, because if they happen to have a bad day you could be in strife.
"We've got a list with depth with bat and ball – we bat right down, with seven or eight bowling options as well.
"We're a little on the older side – we're not shying away from that – but there are some good kids coming through as well.
"The junior numbers are good – we've got five junior sides in – and we're starting to see some of the benefits now with good young players coming through.
"We've added a fifth (senior) side for the first time ever in our 50th year too. We talk about it being a big year, and we've added another side – and we've got players spare.
"It would have been nice to get into the Premier division a few years prior, but things have all worked out really well. The off-season has gone well and we've had good support from a number of sponsors that have jumped on board, and in pretty much every indicator you can have as a club we're going pretty well."
But the Panthers, long viewed from the outside as a club that should have been mixing it with the big boys of Premier, aren't content with just making up the numbers in the WGCA's top flight.
"We want to go up and ultimately win the Premier division," Floyd said.
"Winning District is nice, but it's second division. We've always considered ourselves as a Premier club – one of the leading clubs in the competition off the field – and now we've got the opportunity to do it on the field, and to prove it.
"The number of well wishes we had after winning the flag last season was fantastic, but also the sentiment from a lot of people was 'it's about time'. It was, and now we're in the top grade it's time we make a fist of it there."