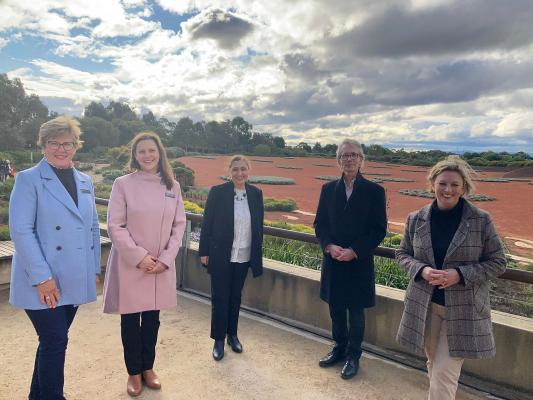 Cranbourne Botanic Gardens will see improvements to its entry and visitor centre as part of $14.22 million from the Parks and Reserves Trust to help maintain and improve facilities at parks and reserves across Victoria.
The second stage of the Woodland Picnic Area and Biodiversity learning hub will also go ahead following the funding announcement.
Energy, Environment and Climate Change Minister Lily D'Ambrosio made a speech at the Red Sand garden announcing the funding boost, before meeting some local children who were undertaking nature seek and go find cards.
She also met some of the gardens' valued volunteers, before the garden's executive director and chair showed her some rare endangered orchids and updated her about the important bushfire conservation activities the gardens undertake.
Ms D'Ambrosio said the coronavirus pandemic had made the state's parks and open spaces even more important to Victorians and the upgrades would ensure they remained beautiful havens for people to visit.
"Our parks and reserves are special places so it's important that we continue to improve facilities and maintain them," she said.
"Victoria's park and reserves have become even more important during the pandemic as a place for people to escape to – this funding will help to ensure they are properly maintained and continue to be treasured."
Cranbourne MP Pauline Richards was also thrilled with the news.
"Melbournians love the Botanic Gardens in Cranbourne and this funding will help to make sure it remains an attractive place for families to relax and exercise."