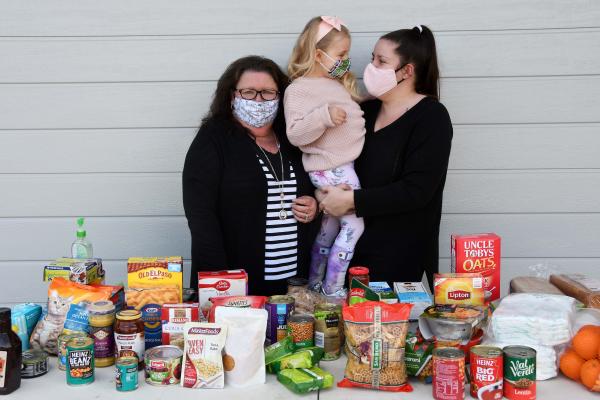 By Brendan Rees
When single mum Elizabeth Cook began handing out free food from her own pantry to those in need she says it felt like the right thing to do.
The Clyde North resident has been praised by her neighbours for her simple idea of setting up a table of food at her Ramlegh Boulevard driveway for people to take what they need.
"It helps so many people and especially in these hard times and there's so many people in need," she said. "I've got a three-year-old with cerebral palsy and she loves giving."
Her project began two weeks ago when she decided to clean out her walk-in-pantry and freezers to help others struggling during the coronavirus pandemic.
It wasn't long before people began messaging her asking if they could also donate food staples.
"I had about 170 messages just in the first three days of doing it.
"Next minute, there was a Coles delivery that came to my house with five bags. That was from another lady in the estate who wanted to contribute.
"It's just kept going," she said.
On one day she had 26 families pick up bags.
"So many people have said: 'We're doing our shopping, we're going to get an extra bag for you'.
"I think I've spent about $250 in the last four days out of my own pocket just to add veggies and long life milk, bread and everything for everyone."
Due to the stage four stay-at-home rules the table has been temporarily put on hold while she seeks seeking clarity from the Department of Health and Human Services.
However, those in need may still message Ms Cook via Facebook to make an appointment to collect a bag of goodies.
"Hopefully we're have the table back out and I'm keeping everyone updated. We just really want to keep it going."