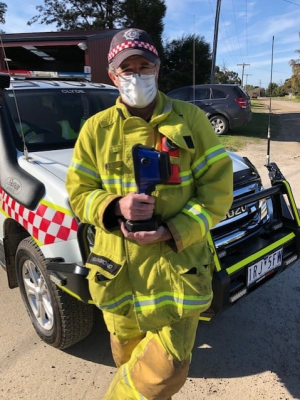 By Brendan Rees
Clyde Fire Brigade has received a thermal imaging camera (TIC) thanks to donations from the generous community.
The device will be a valuable asset to the brigade as it can detect hot spots in fires and assist with hazmat incidents and search and rescues.
Volunteer firefighter of the Clyde fire brigade Ian Earle said the device would be a vital resource to the brigade and community, and thanked the local businesses and the community for their support.
"The TIC cost several thousand dollars so without financial community and business support it would have been extremely difficult for us to obtain one," he said.
Mr Earle said the new equipment would help the brigade with first response to fires and other incidents from low visibility environments and hard-to-reach rugged terrain to structural fires.
"The brigade has wanted one for a number of years," he said. "With the TIC we will be able to identify areas hot spots that is areas which have the potential of flaring up at a later date. For example, a tree burnt on the outside which gives the impression of being extinguished but there is a hot spot located in the inner trunk."
The camera gives users a non-contact method of collecting accurate, fast and reliable temperature measurement by pointing and shooting.