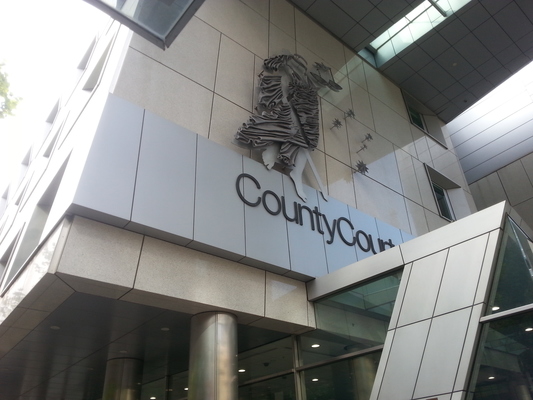 By Brendan Rees
A young man who played a role in a "terrifying" revenge bashing of a teenage boy at a Cranbourne North home has been sentenced to 22 months in jail.
Dur Bidong, 26, pleaded guilty to affray during a Victorian County Court sitting on 22 July.
In her sentencing remarks Judge Carlin Rosemary told Bidong: "Unless you dramatically change your attitude you not only risk squandering the opportunity this country has afforded you – you are destined for a life in and out of prison."
The court heard Bidong was armed with a pole when he and a large group of males stormed a Cranbourne North home just after midnight on 21 December 2017.
Bidong had sought revenge following an alleged assault on his younger brother earlier that night, the court heard.
At the house were four teenage girls and two teenage boys as well as a woman, the court was told. The two boys inside heard a whistle just as the group turned up on foot and armed themselves with poles.
The court was told one of the males from the group smashed a window while another yelled: "We're finally here to get you".
The girls inside locked the house and hid while the boys also ran back inside – however one boy was struck on the head with a pole and left on the ground bleeding.
The court heard the boy was rushed to hospital with life-threatening injuries including skull, facial and spinal fractures and bleeding on the brain.
Police arrested Bidong later that day but he denied any involvement in an interview, saying he was at home all night.
Police seized some of his clothing and shoes and released him without charge, the court heard.
However, nine months later forensic analysts revealed Bidong's shoes had contained traces of the victim's blood.
The court was told Bidong was arrested again and interviewed but he couldn't explain why the blood was on his shoes.
He was charged on summons but was remanded in custody for other matters on 28 November, 2018.
The court was told the arrival of the group at the house had been "co-ordinated".
Judge Rosemary told Bidong: "To be clear I am not sentencing you for the assault … but it is relevant to the seriousness of the affray in that it would have increased the level of terror experienced by those present".
The court heard Bidong came to Australia from Egypt in 2011 after his family fled Sudan following a civil war seven years earlier.
He was bullied at a young age before dropping out of school in Year 10 and has never been employed.
The court heard Bidong had been sentenced 16 times but had completed a certificate in hospitality and general education during his time in custody.
Judge Rosemary took into consideration his guilty plea but was not accepting of his remorse. He will be eligible for parole in 12 months.