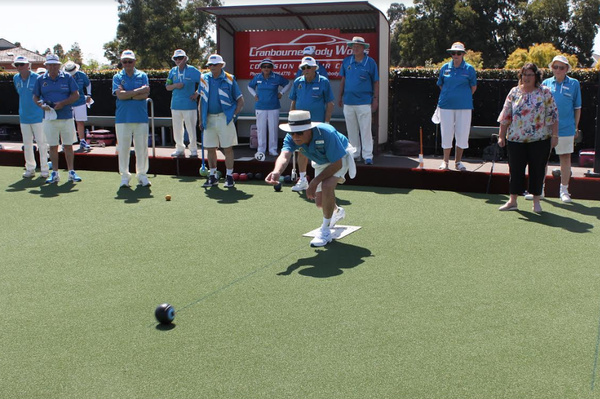 By Brendan Rees
A new seven-rink bowling green has been unveiled at Blue Hills Bowling Club in Cranbourne East – just in time for the pennant season.
The club held an intraclub competition under blue skies to celebrate the re-opening of the synthetic green on Thursday 3 October.
Bowling Club president David Millican said the club's 42 players were rapt with the state-of-the-art green.
"We're absolutely over the moon we got this new green … this is as good as you are going to get," he said.
"We're looking forward to the new pennant season with the newest green in the whole region."
The project cost in excess of $100,000 and was completed in about a month.
Mr Millican said the old green was about 12 years old since the village had opened, and was hard to play on.
"Over the time the sand has just worn away and the grass has been trodden down," he said.
"It was like playing on concrete, at least now it's like playing on a shorter grass. All the members are absolutely thrilled."
The green, which is only available through employees and residents of Blue Hills Residences, will open its doors to pennant players across the south east which kicks off in October.
The upgrade was partly funded by the bowls club, contributing $15,000, with the rest paid by the owners of Blues Hills Residences.