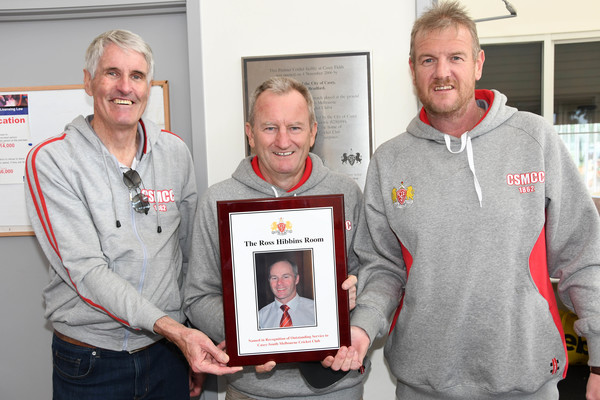 By Nick Creely
It wasn't the start that Casey-South Melbourne was hoping for from an on-field perspective.
But the opening round of the Victorian Premier Cricket season on Saturday was about way more than just what happened on the turf at Casey Fields – it was about honouring a club great who contributed so much to the club, and ensuring his legacy would not be forgotten.
Only 30 minutes prior to the Swans taking to the field, the club unveiled a plaque for Ross Hibbins in the newly named 'Ross Hibbins Room' at the club, with the former club president and much-loved cricketing administrator in Victoria passing away after a battle with cancer earlier this year.
Both the Swans, and their opponents, Prahran, honoured Hibbins by wearing black armbands and holding a minute's silence on the ground, a fitting tribute to man that gave so much to cricket, and Casey-South Melbourne.
Swans coach Brian Keogh said it was a great tribute to Ross and his family, and praised those who came out to pay their respects.
"It was a great celebration, an excellent turnout with people from all over – Amanda Stapledon was there, Cricket Victoria had a number of senior officials there, Kate (Ross' wife) spoke beautifully as she always does, and lots of family was there," he said.
"I thought it was a great tribute to him."
Keogh said that the players prior to the game were honoured to be a part of a tribute to a person that meant a great deal to all involved at not only Casey Fields, but also Victorian cricket in general.
"All of the guys had great respect for what Ross did over a long period of time, and a lot of the guys knew Ross for a number of years," he said.
"I think the way the players handled themselves was great, and I give great credit to Prahran also for standing for the minute's silence. It was a really moving tribute."
But on-field, the Swans got off to a tough start to the season– albeit without two of its stars – after being sent in by the True Blues.
The Swans were lighter in the batting department with overseas skipper Luke Wells not yet available, while middle-order gun Lachie Sperling was also missing from the side with a hamstring strain.
After losing openers Dev Pollock and Ryan Quirk early, before a horror run-out saw Joel Mitchell walking back to the sheds, the Swans needed to rebuild – and quickly – to have any chance of posting a competitive total.
But Matt Wilcox's stunning spell of 4/8 off 10 overs proved too hot to handle, with the Swans bundled out for just 45 in the 32nd over, with Dylan Hadfield top scoring with 14.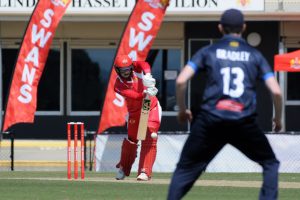 The Swans did enjoy some success with the ball before the True Blues got the runs in the 16th over, with Nathan Lambden (1/8) skittling opener Adam Bull off the second ball, and taking a further two wickets to at least take some confidence with the ball.
Keogh said that despite his side having a poor day, the opposition made it difficult to get any flow going with the bat due to their discipline with the ball.
"I thought Prahran bowled very, very well, their attack was excellent – they hardly bowled a bad ball in 30 overs, they were a class attack," he said.
"And to be fair, and it's not hiding from it, it was a good toss to win – we would have bowled if we won the toss, but clearly it wasn't a 45-run wicket either, and the batters know that, and have acknowledged that.
"It's Round 1, we have to put it behind us – the theme this week is to back our own strengths, we have a strong batting side, and we know we had a poor day.
"It's a long, long season, we've got a hell of a lot of cricket to play out, and we've had one really poor day, but we know we're better than that."
Keogh acknowledged that Wells is unlikely to be available for Saturday and is waiting on his visa to be approved, while Sperling could be three weeks away with his hamstring injury.
There are changes, however, expected to be made this Saturday, with both Ryan Quirk and Josh Dowling missing this weekend due to a wedding, and Keogh said that there are several players who could come into contention, with Chris Benedek and Aaron Fernando, as well as recruit Nick Huttley, impressing in the twos.
Emerging youngster Shobit Singh is also expected to be available after impressing for Vic Country in the Under 17 National Championships, with the young top-order batsman a sneaky chance to debut.
"There is four players out of our first XI this weekend – regardless of those guys going out, we believe we've got the depth within the club," he said.
"It creates opportunity for some guys, so there's plenty knocking on the door this week."
The Swans will be desperately looking to bounce back when they venture out to the Geelong Cricket Ground to take on the Cats on Saturday.