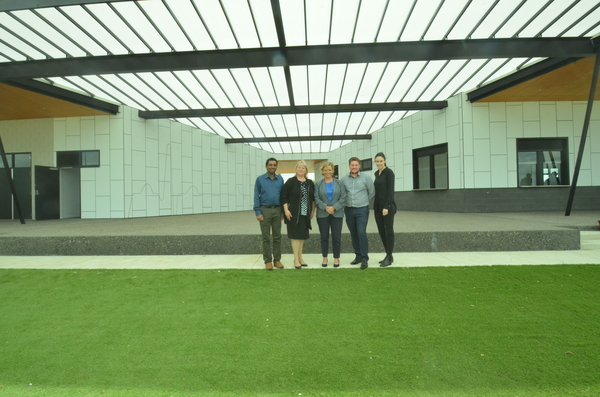 Two major projects have been unveiled for the Cranbourne East community with the Hunt Club Recreation Reserve and Hunt Club Family and Community Centre officially opened on Monday 7 October.
The opening of the new recreation reserve and upgrades to the existing family and community centre will ensure City of Casey can continue to cater to the rapidly growing community of Cranbourne East.
The $2 million redevelopment of the family and community centre includes:
• The refurbishment of an existing kindergarten room
• A fourth kindergarten playroom
• Refurbishment of the existing maternal and child health consult
• A larger multi-purpose room
• Large outdoor/indoor storage space
• Family change room
• Two secure outdoor courtyards for the community.
The newly constructed $4.7 million recreation reserve next door, which will be the future home of the Casey Thunder Football Club, Carlisle Park Viking Cricket Club and Melbourne Crickeroos Cricket Club, includes:
• A pavilion with two female friendly change rooms and amenities, unisex umpires' rooms, a first aid room, public amenities (including female, male, unisex and accessible toilets), a community room with a kitchen and canteen facilities, a scorer's room and storage
• A public art project from artist Johnathon Leahy titled 'Move', taking the concept of sport and movement paired with heartbeat
• One full sized AFL oval and cricket pitch with floodlighting
• Three cricket practice nets
• A car park, electronic scoreboard and walking paths
• Playground, seating and shelter.
Casey mayor Amanda Stapledon said the community would have far greater access to critical programs and sporting activities as a result of these two facilities.
"The community of Cranbourne East and beyond will be further supported to lead an active lifestyle through participation in sporting and leisure activities, therefore improving the health and wellbeing outcomes of the entire community," she said.
"As a result of rapid growth across the municipality, but in particular in Cranbourne East, the City of Casey acknowledged the challenges and pressure being faced by the Hunt Club Family and Community Centre, and expanded its capacity so that it could continue to meet the community's needs."
These projects were delivered by the City of Casey in partnership with the State Government, with funding through the Department of Environment, Land, Water and Planning's Growing Suburbs Fund.
The State Government provided $1 million towards the family and community centre, and $2.4 million to the reserve, while council provided $1 million to the community centre.