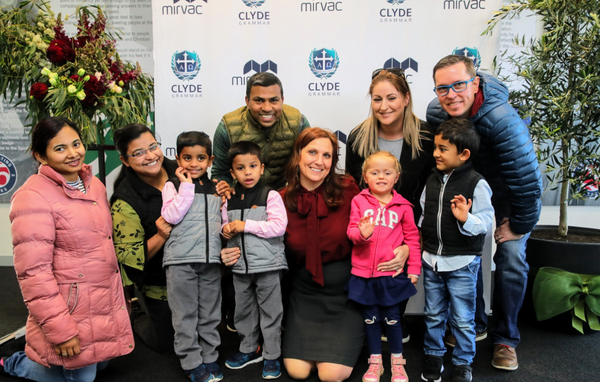 By Brendan Rees
Designs for a private school in Clyde North to cater for 1,200 students have begun.
Clyde Grammar is expected to open its doors in 2022 and will include science, arts, and sports facilities, as well as plenty of space for playground and sporting ovals.
The Prep to Year 12 school, which was announced on Thursday 12 September, will open at Mirvac's new Smith Lane estate – with construction planned to start in 2021.
Mirvac has partnered with CSV Limited – who owns the existing Casey Grammar School in Cranbourne East – to deliver the project.
However, Mirvac's residential general manager Elysa Anderson remained tight-lipped about funding as the registration of the school was pending approval.
"It will be a community partnership," Ms Anderson said, adding the estimated cost was not known "at this point."
Architects are drawing up preliminary plans for the school with a preparatory intake of two classes to be temporarily located at Casey Grammar School to begin next year.
The school is a direct response from the community to accommodate Casey's population growth.
"It is in a very strong growth corridor … and schooling's a very important part to ensure that community's thrives from day one," Ms Anderson said.
"Smiths Lane is one of the largest single landholdings in Melbourne's south-east growth corridor.
"It will be a benchmark neighbourhood for the area, with early delivery of quality amenity and community wellbeing at its heart," she said.
Casey mayor Amanda Stapledon said the new school would be a welcome addition to Melbourne's south-east suburbs.
"Council is actively supporting Casey Grammar through the planning and delivery process," adding it will "offer another exciting learning environment for our children."
Clyde Grammar School principal Leanne Evans, said the school was committed to delivering high quality, affordable education.
"We provide a holistic approach to learning that allows children to realise their potential and achieve ongoing success," Ms Evans said.
The $850 million Smiths Lane estate project is anticipated to have 6,500 residents and about 2,100 homes. It will include an open space, 11 hectares of sporting facilities, walking and bike trails, a cafe, childcare facility, restaurants, and shops.
Earlier this year the State Government announced a Clyde North East Primary School which was set to open in 2020.