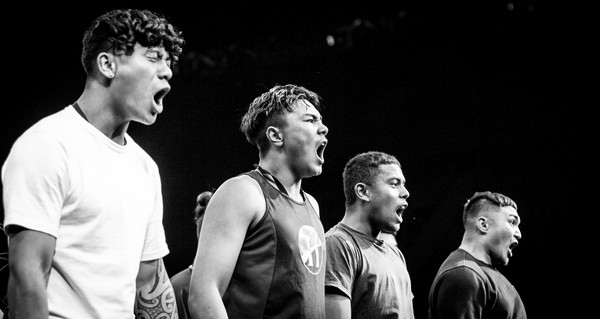 By Danielle Kutchel
As students around Victoria gear up for the State Schools Spectacular, a group of Polynesian boys from local schools have opted for a unique performance that pays homage to the state.
Students from Narre Warren South P-12, Hallam Senior College and Tarneit P-9 will perform a haka on the State Schools Spectacular stage for the first time in the event's history.
The performance has been a work in progress for many months, with the seed first planted in term four last year, according to Narre Warren South P-12's VCAL and cultural engagement coordinator, Luke Hiki.
Mr Hiki, who is from New Zealand and has a background in Maori performing arts across the Tasman, worked on composing the haka after being approached by the creative director and choreographer of State Schools Spectacular.
The haka tells the story of Wikitoria – the Maori word for Victoria. It begins by asking the question of identity, with the performers referring to their Polynesian heritage. It references the Dreamtime and pays respect to the Indigenous people of Victoria.
The final part talks about why the performers are there, pays homage to their own ancestors and describes the unity between different cultures.
After the State Schools Spectacular, the haka will be shared with Maori communities around Melbourne so that they too can perform the story.
In term two this year, he gathered a group of students from both junior and senior grades at his school to begin learning the moves.
He said around 27 percent of the school's student body is Polynesian, with Maori, Samoan and Cook Island cultures represented.
Mr Hiki said the performance was a way of students getting in touch with their culture and feeling pride in their heritage.
"It's positive too, because some Polynesian boys can be a bit disengaged in class and this is another outlet where they can learn discipline and self-esteem," he added.
The Narre Warren students teamed up with their counterparts from Hallam Senior and Tarneit and have been practising in earnest for the big day on Saturday 14 September.
The Hallam and Tarneit performers have been learning via video for the most part, adding an extra challenge, but Mr Hiki is confident the team of more than 30 students is ready to go.
"It's going to be a firecracker, I think it's going to go down well!" he exclaimed.
The 2019 Victorian State Schools Spectacular will be performed at Melbourne Arena on Saturday 14 September 2019 at both 1.00 pm and 6.30 pm and will be filmed by Channel 7 for broadcast later in the year.