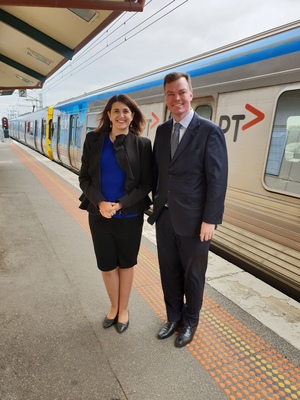 By Brendan Rees
More PSOs will patrol Cranbourne Railway Station if the Liberals win the state election in November.
Commuters would benefit from a second day time shift of PSOs as part of the additional 100 transit PSOs under a Liberal Nationals Government.
At the moment, PSO shifts are from 6pm until the last train.
An elected Liberal Nationals Government will introduce a new and additional daytime shift between 10am and 6pm for up to 20 railway stations identified as daytime crime hotspots.
The Liberals will work with Victoria Police and The Police Association Victoria to recruit and deploy 100 new PSOs on the new daytime Transit PSO roster.
The Liberals say crime data obtained from the Crime Statistics Agency reveals a surge in public nuisance crime in Cranbourne since Daniel Andrews was elected with an overall crime increase of 13.59 per cent and a 47.17 per cent increase in common assault.
Further to this, there has been a 33.33 per cent increase in threatening behaviour.
Shadow Minister for Community Safety, Edward O'Donohue said despite initially criticising PSOs and labelling them "plastic police," Labor had kept this successful policy.
"If we are going to encourage more people to use more public transport then we need to make sure users are safe and feel safe," he said.
"That's why our policy is more frontline police, more PSOs, tougher sentences and to make bail and parole harder to get."
Frontline police numbers have fallen under Daniel Andrews with Police Association figures showing there are now 190 fewer uniform officers than in 2013 despite Victoria's population increasing by over half a million people.
Liberal Candidate for Cranbourne, Ann-Marie Hermans said the Liberals were committed to ensuring the safety of commuters using Cranbourne Railway Station.
"A Liberal Nationals Government will increase frontline police numbers as well as expand the PSO program to keep public transport users safer," she said.
Police Minister Lisa Neville said the Liberals could not be trusted on law and order: "They didn't fund one extra police officer when they were in Government, and they'll do it again if they get the chance."
"We've already announced funding for an additional mobile 100 PSOs, to be rolled out across the public transport network, of these, 25 new PSOs have already been deployed," she said.
"We've also changed the legislation so that we could expand their reach and give them more powers so they could help promote public safety across our public transport network."