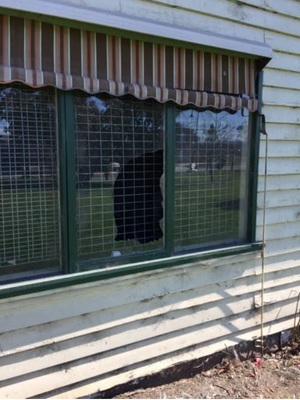 By Jessica Anstice
Concerned residents of Alarah Estate in Cranbourne West are urging the City of Casey to start maintaining the poor appearance of a heritage listed property located nearby their homes.
The heritage listed property, located between City Vista Circuit and Ercildoune Court, is a neglected dilapidated house with broken windows, shattered glass and rusty metal around the property.
Resident Jennifer Fitzsimmons said when the development of Alarah Estate was tendered by Wolfdene it included a proposal to restore the house and landscape the property into a communal area.
The property was handed back to the council around three years ago.
"Nothing besides securing the house from intruders has been done for over five years," Ms Fitzsimmons said.
"This has affected the overall appeal of the estate as it lacks this integral community infrastructure and affected the value of the properties immediately surrounding the park.
"More than being an eyesore, I believe this is an OHS concern particularly since this is meant to be a park where children play."
Ms Fitzsimmons said many of the residents purchased their properties due to its view of the park and advertised development of the park.
"However residents only have a view of a paddock and a dilapidated house," she said.
"Myself and fellow residents would like to know when this will be rectified.
"We believe there is much potential for this property as a valuable communal area, with its well established fruiting trees and open grass area, something sorely lacking within the Alarah Estate."
City of Casey city planning acting manager Kathryn Seirlis said the Council will commence preparation of a Master Plan for the parkland surrounding the Ercildounde Heritage building in early 2019.
"As part of the Master Plan, Council will consult with the community regarding their suggestions for this property," she said.
"The property holds large historical importance as it is one of the remaining farmhouses from the nineteenth century and has associations with the local Hall family, who established a model dairy farm in Cranbourne West."
Ms Seirlis said in 2016, Council undertook works to secure the building, as well as removed temporary fences.
"It's hoped that throughout the process of developing a Master Plan, Council can determine a future for this site that is beneficial for all and will consider recommended projects through the annual budget process," she said.