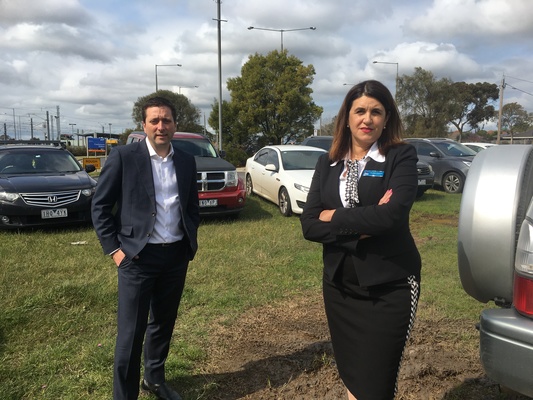 An elected Liberal Nationals Government will invest $2.5 million to provide an extra 250 asphalted car parking spaces at Cranbourne Railway Station.
"We'll provide more parking at Cranbourne station and extend the rail line to Clyde," Victorian Opposition Leader Matthew Guy said.
"This will help locals to get around faster, while Daniel Andrews just wants to build a tunnel to Broadmeadows in 2050.
"We need to ease the population squeeze which is why I am so focused on planning for population growth, so every Victorian can enjoy living in their communities."
The new carpark will replace the unsafe, informal parking that is currently taking place on the vacant Vic Track land adjacent to the station.
This paved extension will allow for easy access to the station for the elderly and disabled and ease the pressure on carpark availability for commuters.
The extra parking will also remove 250 cars a day from our roads, easing the congestion squeeze.
"A Matthew Guy- led government will get things done in Cranbourne," Liberal candidate for Cranbourne Ann-Marie Hermans said.
"As I knock on doors and speak to residents in Cranbourne, time and time again the lack of safe parking at the station is brought up. We're going to fix that."
This announcement builds on the Liberal Nationals' commitment to extend the rail line from Cranbourne to Clyde to accommodate the population boom that's happening in Cranbourne, Cranbourne East and Clyde.
The Liberal Nationals will expand and improve our rail and road networks by rebuilding the Cranbourne rail network and removing intersections at Thompsons Road and Western Port Highway in Lyndhurst, and Hall Road and Western Port Highway in Cranbourne West.
Liberal Nationals claim they are the only ones who can deliver congestion-busting infrastructure without blowing the budget.