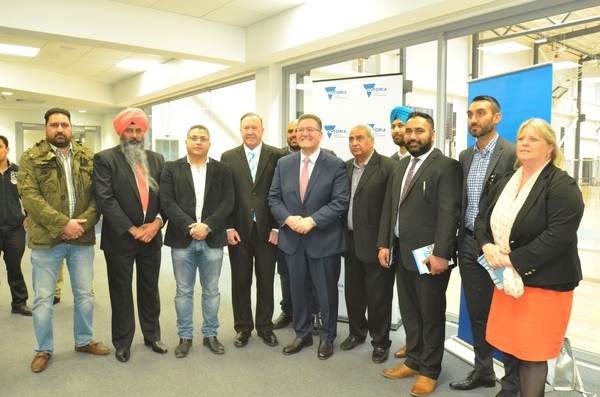 The City of Casey has welcomed the announcement that the 2019 Sikh Games will be held in Casey next year.
The Minister for Sport, the Hon. John Eren attended Casey Stadium yesterday morning to announce $100,000 in State Government funding for the event, along with a $50,000 contribution from Council.
Members of the Australian Sikh Games Organising Committee were there to welcome the news, with the games scheduled to be held from 19 – 21 April 2019.
The Sikh Games will include 14 sports held across seven of of Council's facilities, with more than 90,000 people expected to attend over the three days, and 3,000 athletes competing.
City of Casey Mayor Cr Geoff Ablett welcomed the news and said Council is over the moon to showcase its facilities and is proud of the investments made into local sporting hubs.
"We are very excited to display our sporting facilities throughout the 2019 Sikh Games and would like to thank the State Government for the funding of this great event," he said.
"Our host facilities will include Casey Stadium, Casey Fields, Casey RACE, Bunjil Place, the Hunt Club and Clyde Recreation Reserve.
"As part of our vision to become Australia's most liveable city, Council has placed a strong focus on delivering premium state of the art sporting facilities, which we are proud of today."
Mayor Cr Ablett said he is thrilled to welcome the Sikh Games competitors, spectators and volunteers to Casey in 2019 and he hopes everyone gets as much pleasure and enjoyment out of these sporting hubs as what they do.
"This event will boost the local economy within the City of Casey as we welcome our guests in April next year," he said.
The 2019 Sikh Games will mark their 32nd year, with the three-day carnival offering a mixture of sport and
culture.
Teams will culminate from Australia, New Zealand, Singapore and Malaysia to participate.
The games are held each year in major capital cities and major regional areas throughout Australia, and are run
by volunteers from the Sikh community.
To find out more about the games visit anssacc.org.