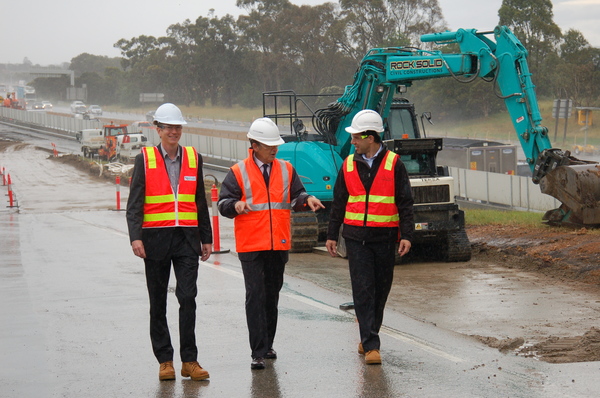 By Brendan Rees
Six large gantries carrying electronic signs were installed last week as part of the $400 million Monash Freeway upgrade to ease congestion and create a "smarter commute."
Minister for Roads and Roads Safety Luke Donnellan, who made the upgrade announcement in Berwick on Friday 1 December, said a further 44 gantries would be installed with overhead electronic signs to change speed limits and close lanes in the event of an incident.
The biggest of the gantries is 61 metres long and weighs 40 tonnes.
"These gantries will form part of a massive, interconnected system that will reduce crashes on the freeway, improve incident response and safe travel time," he said.
"What we're looking for is the sweet spot, so we don't have the stop-start patterns."
"We're getting the Monash Freeway upgrade done, delivering extra lanes and smarter freeway system to get people home safer and sooner," Mr Donnellan said.
He said more than 70,000 tonnes of asphalt had been laid to create 30 kilometres of new lanes, with 35 kilometres of fibre optic cable installed for the smart technology.
Mr Donnellan said five gantries had been installed between Warrigal Road and Pakenham, adding the upgrade would be completed mid to late next year.
"More than 20 smaller cantilever gantries on freeway entry ramps will hold traffic signals to automatically manage the number of cars entering the freeway."
Last month marked one year of major construction on the freeway upgrade.
Mr Donnellan said the latest freeway management technology and an extra lane in each direction would mean a "safer and more reliable" journey for the more than 200,000 drivers that use the Monash Freeway.
Asked if the yellow lines on the Monash Freeway during the upgrade were causing confusion for drivers, Mr Donnellan said there might be some "difficulty" but it was part of a "temporary exercise."
"There hasn't been an increase in the number of accidents on the road. It's the opposite of what people are thinking."
According to VicRoads data in the period of November and December 2016, there were five serious injury crashes and no fatal crashes on the stretch of the Monash Freeway between the Princes Highway and McGregor Road.
Shadow Minister for Roads David Hodgett said Mr Donnellan was "kidding himself" if he did not accept that the mix of white and yellow lines on the Monash Freeway was confusing for motorists.
"Although it's conceivable that Luke Donnellan hasn't experienced the issue, living in trendy Fitzroy and ignoring his electorate of Narre Warren North, 40 kilometres away, he doesn't battle the increasing congestion on the Monash Freeway every day."
Maurice Blackburn road injuries lawyer Tamara Wright said the firm had a "few claims" with road accidents on the busy freeway, adding that motorists were confused with the yellow lines.
She said until 2012, the old white lines were removed with a high pressure hose or painted over to ensure there was only one set of lane lines.
"I'm sure the change was done for a good reason, but when we've got people that are confused, we really have to question that 'is this the safest practice now?'."
VicRoads South Eastern Project director Ray Paterson said crews would be working around the clock during the holiday period between Eastlink and South Gippsland Freeway.
"We're getting a lot of work done while there is less traffic on the road over summer, and encourage drivers to plan ahead, allow extra travel time or seek alternative routes," he said.
In the lead-up to Christmas, works will be carried out at night to get the surface of the freeway ready for its new top layer to be installed.