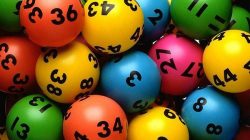 A Hampton Park woman has hit the jackpot, taking home almost $750,000 in a recent TattsLotto draw.
The retiree, who chose to remain anonymous, took home a whopping total of $723,182 when her ticket struck in two separate draws.
She bought the winning five-game marked System 7 entry from Lynbrook Village News and Lotto at the Lynbrook Village Shopping Centre.
The woman said she had been celebrating all weekend after finding out she had won.
"I wasn't overly excited until I got this phone call. My sister won TattsLotto years ago, and she told me I'd get the call to confirm, so I've been waiting," she said.
"We celebrated a little bit hard last night, you can't believe the excitement there was in this house yesterday – oh my God. Too much champagne."
"I check my numbers every Sunday. Once I found out I rang my sons and daughter-in-law and mother-in-law – it was on for young and old."
The woman said her lucky numbers were very personal to her and she had been playing them for many years in the hopes of them paying off one day.
"I've had the numbers for I reckon 20-plus years; they are my two sons' football numbers and their birth dates," she said.
After such a big win, the woman said she would need some time to consider her options before deciding what she would spend it on.
"I'll probably put some money away with my superannuation, and I want to give the kids each some money and share it with my sisters and brother and mother-in-law too," she said.
"We were thinking about doing a holiday around Australia, and we've been thinking about it for ages but haven't been able to go because of money, but now we can."
"We will just sit back and relax, and start thinking about how we will spend it."
Joanne Sciortino, team member of Lynbrook Village News and Lotto, said the team at the shop was thrilled to hear one of their customers was a winner.
"We are so very happy that a local person has won division one," Ms Sciortino said.
"We are so happy for them and wish them all the best with their win."
Across Australia there were six division one winning entries in the draw including three from Victoria, one from South Australia, one from New South Wales, and one from Queensland.