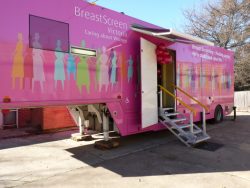 By Victoria Stone-Meadows
Cranbourne women are being urged to take advantage of BreastScreen Victoria's mobile mammogram vehicle.
The bright pink van, Marjorie, will be parked out the front of the Cranbourne Library until Friday 25 August, offering free breast checks to women in the area.
BreastScreen Victoria CEO Vicki Pridmore said Marjorie was one of only two vans that travelled the country and offered a convenient option for women in Casey to have their breasts checked.
"This visit to Cranbourne has been organised to ensure women in this part of Melbourne have access to a potentially life-saving mammogram," Ms Pridmore said.
"We hope that bringing the van to Cranbourne will make it easier for all women to screen."
"Women will be well looked after by our experienced, senior radiographers and the vans use the highest quality digital radiography machines, ensuring that women receive the best service."
Cranbourne has been identified by BrestScreen Victoria as an area that needs this service as over 5000 women aged 50-74 did not have a breast screen between 2013 and 2015.
Regular mammograms have been identified as the best way to catch any cancerous symptoms or breast abnormalities early when treatment is the most successful.
Appointments for the Mobile Screening Service visit to Cranbourne can be made online at breastscreen.org.au or by calling 13 20 50.