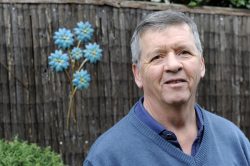 By Victoria Stone-Meadows
A Lynbrook man along with a team of friends and family will be taking a walk in the park later this month to raise money and support people in the community living with Parkinson's disease.
John McKenzie was diagnosed with Parkinson's eight and half years ago and said he didn't know much about the illness when he was diagnosed.
Mr McKenzie and his wife Maria started their own peer support group for sufferers and their carers and Mr McKenzie said it was one of the best things he ever did.
He said getting to know other people who shared common experiences with the illness had helped him deal with his own symptoms.
"Most people are as ignorant about Parkinson's as I was," he said.
"People think of Parkinson's as old people that shake and while that's the truth, it's actually an incredibly complex condition that is intuitive as it progresses."
"I think having information about the condition, what you can do, tips and tricks, advice, and sharing experiences is all quite comforting."
Mr McKenzie will be participating in Parkinson's Victoria's annual fund-raising event 'A Walk in the Park' for the first time this year at Federation Square on Sunday 27 August.
"I haven't done it before but because I run this peer support group for Parkinson's Victoria, I thought it was about time I practised what I preached," he said.
"So I tried to get a few people interested and I decided to get a few friends and family together to get us registered."
A Walk in the Park is Australia's largest community event dedicated to improving the lives of people living with Parkinson's and brings together those living with Parkinson's, families, carers, health professionals, friends and supporters to create positive change.
It was through running the peer support group and being involved with Parkinson's Victoria that Mr McKenzie found out about deep brain stimulation.
Mr McKenzie will undergo this invasive surgery on Wednesday 9 August, where doctors will implant a medical device called a neurostimulator to send impulses through implanted electrodes specific targets in the brain.
He said he would never have considered the surgery as a way of dealing with his symptoms if it weren't for his involvement with Parkinson's Victoria.
"I went to a seminar they run, a kind of get together for people with deep brain stimulation or considering having it," he said.
"I was getting bad movement in my body that started to get worse and I was informed by Parkinson's Vic that early intervention is better."
Mr and Mrs McKenzie are always hoping to expand their peer support group to others in the community who may be suffering in silence.
Mr McKenzie said there was so much to be gained from sharing experiences with Parkinson's and encouraged anyone who needs the support to get in touch.
"The first thing that struck me when I went to a support group in Frankston was it was such a relief to talk to people who could finish your sentence for you," he said.
"All these people going through the same thing as you; it gives you a real sense of comfort."
If you are someone who you know want to participate in the 'Walk in the Park' or would like to discuss becoming a member of the peer support group, call John and Maria McKenzie on 03 8743 4565 or 0417 525 234 or email majohnm@yahoo.com.au.