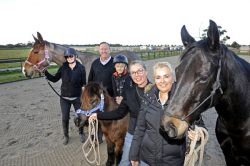 By Victoria Stone-Meadows
Casey's Councillor Geoff Ablett has reignited a push for an equestrian centre to be built in the South-East.
Cr Ablett put forward the motion at a general council meeting on Tuesday 1 August, where it was supported by other councillors.
The motion will see Casey Council making contact with surrounding councils at Cardinia, Bass Coast, Baw Baw, Latrobe, Mornington Peninsula, South Gippsland, Western Port, and Yarra Ranges seeking support from them to establish an equestrian centre in the region.
Cr Ablett said after the plan for establishing an equestrian centre at Tonimbuk in Cardinia fell through, he has not given up on funding a new place for a regional centre.
"Someone jumped in three days before our offer and bought the land at Tonimbuk, it was the quarry people if I remember correctly," he said.
"As councils we can't spend money on land we don't own but that would have been ideal and Cardinia and Casey would be able to contribute to and profit from the centre."
Cr Ablett conceded land in Casey would be too expensive for this kind of project and that is why he wants to establish a joint project with other councils in the region.
Cr Ablett says the South-East region is crying out for an equestrian centre and he is determined to make sure one is built to fit the community's needs.
"I am looking for something around the 150 to 200-acre mark that allows us to have cross country, indoor infrastructure, and caters for a huge cross-section of equestrian needs in the region," he said.
"Horses are a bigger industry than racing, equestrian is a 20 per cent silent giant of our economy and with the Werribee centre booked out all year round and costs gone up 30 per cent, we need something similar out here."
Cr Ablett was quick to add that a regional equestrian centre in the South-East would not take business away from trainers and teachers in the area.
"We have a private population who may have show-jumping and arenas, grass dressage, and cross country and they do a fantastic job of training and coaching," he said.
"But they are all scattered and spread out and we want to build something to complement that, not to replace it."
"We need something on this side of Melbourne that will allow people to come from all over Gippsland and not have to travel through Melbourne with their floats," he said
He said the amount of money that local governments, including Casey, have spent on other sports in the last few years has been a particularly bitter point for women in the region.
"About 70 per cent of people in equestrian are female and not building this centre has been a slap in the face for women," he said.
"They feel they are being looked over … why not have something that tens of thousands of women are passionate about?"
"I am not giving up on this idea; we are serious about getting something in the South-East; it may cost a million to kick off but long-term we need something like this out here and now is the time to act," he said.
On the back of the motion, Casey Council will write to other councils in the area and a report will be compiled of their responses for presentation at Casey in three to four months' time.