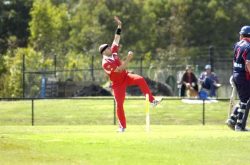 By Nick Creely
Former Victorian quick Jayde Herrick will return to Casey-South Melbourne in 2017/18 as a bowling coach, as the Swans continue to assemble the most impressive coaching panel in the competition.
Herrick, 32, played 61 matches for the Swans between 2008-2013, taking 115 wickets and scoring 829 runs while he managed to take 77 wickets in a 19-game first-class career with both Victoria and Wellington.
The bustling quick will combine his time between the Swans and Mornington Peninsula club Somerville, where he has signed a deal to captain the club's first XI in 2017/'18.
It comes after the Swans signed former Sri Lankan test cricketers Prabath Nissanka, 37, as the club's head coach and Naveed Nawaz as the club's batting coach, while Dane Harkin has been retained as the development coach.
Swans president Ross Hibbins is thrilled that the club has been able to land such an impressive coaching panel, and said it would only add to the excitement of his developing club.
"Our goal strategically was to get the best coaches – we now feel we've landed that, and we are proud and happy about it," he said.
The input of Herrick is probably the biggest coup for the club this off-season, with the club's highly talented pace group – spearheaded by Brendan Rose and Nathan Lambden – ready to take the competition by storm.
"He'll be there during Sunday matches, and through every session of the pre-season which is really exciting for us," Hibbins said.
"He'll obviously work closely with our younger bowlers, and be a real mentor to our guys, and he'll just impart his knowledge on the playing group."
Nawaz, the 43-year-old who was head coach of the 'Futures League Cricket Academy' in Dubai, is also set to add experience and knowledge to Nissanka's disposal this season, while Harkin has been busy developing the next batch of Casey-South Melbourne cricketers in the Junior Development Program.
"Naveed will focus on the batting, but also with his experience, will work closely with Prabath and provide the structure that we are striving for," Hibbins said.
"Dane has just been outstanding in his role with the Junior Development Program, and has brought it all together brilliantly – we feel there are some great players that hopefully want to play cricket with us in the future come out of there."
With the Swans in the midst of pre-season, Hibbins acknowledged that the culture and vibe around the place – driven from a talented senior group and a legacy left by former coach Brian Keogh – will take his club to greater heights.
"Our senior players are really taking ownership and driving outcomes for this club," he said.
"It's a long-term venture, and we're really excited about where we are heading."
And although it is unlikely that the club will add any mature players from other clubs, Hibbins said the focus is purely on developing the talent already there.
"We are just focused on players that are coming through – we are extremely confident we can grow our young talent," he said.
The Swans will kick-start their 2017/'18 campaign with a clash against Ringwood on 7 October at Casey Fields.