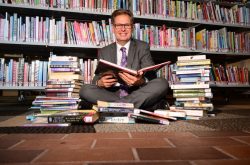 By Victoria Stone-Meadows
Casey Cardinia Libraries (CCL) will be undergoing a drastic change in the next four years if the 2017-'21 Library Plan is approved by the community.
CCL will officially unveil the draft plan at Pakenham library on Wednesday 17 May with CCL chairwoman Cardinia councillor Jodie Owen.
The draft plan details the libraries' ambitions in upgrading IT equipment, renewing the furniture and refreshing the feel of libraries, and creating new and better learning and activity spaces.
CCL CEO Chris Buckingham said that the much-needed upgrades to the libraries will bring them into the 21st century.
"We have a clear mission to encourage life-long learning, increase literacy and build strong resilient communities across the Casey Cardinia region," he said.
"We want our libraries to be places where people can share stories, gather knowledge and be creative."
"All our surveys told us that the community love our libraries, but we have a lot of work to do to ensure that they meet the needs of a rapidly growing community."
The Library Plan is available on www.cclc.vic.gov.au and physical copies are on display in all CCL branches.
Feedback and suggestions are welcome from the community up to 14 June.