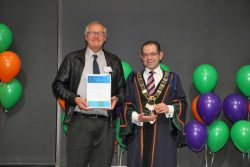 By Victoria Stone-Meadows
Five individuals and three community groups have had their hard work recognised at the 2017 City of Casey Volunteer Awards on Friday 12 May.
Roman Nowak from Cannons Creek took out the coveted Casey individual volunteer of the year award for the many and varied volunteer roles he undertakes in the municipality.
Mr Nowak, 65, is an independent person with the Youth Referral Program who helps young people who have been taken into police custody when a parent or guardian may not be available.
He has attended 69 call outs to police stations throughout Casey to support young, vulnerable people who otherwise may have had nobody.
Mr Nowak is also second in charge of the Cranbourne Salvation Army where he has volunteered for 22 years and co-ordinates relief efforts to help the most vulnerable members of the community.
His volunteer efforts extend into other areas as well; having been a member of the Devon Meadows CFA for almost 20 years, a member of Langwarrin Landcare and a town support worker helping people with tasks such as budgeting in the local area.
Mr Nowak said he wasn't expecting to be nominated for the award let alone win it, but was honoured to receive recognition for his work.
"I thought there would be more people who did more than I do in the community so I didn't expect it all," he said.
"I am very privileged to have received this award because there a lot of people who do voluntary work that never get recognised and they should be recognised."
Casey mayor Sam Aziz congratulated everyone who was nominated for an award on the night.
"I believe that the volunteers we have in Casey are some of the best, and I would like to congratulate all the nominees and winners on being recognised for their invaluable contribution to the City of Casey," he said.
"It gives me great pleasure to acknowledge your generosity in giving your time and effort for the benefit of others to make our community such a great place to live," Cr Aziz said.
17-year-old Hayley Stevens from Officer was awarded the Casey young volunteer of the year award for organising a team of students from her school to participate in the Casey Relay for Life event in March this year.
Cranbourne residents Debbie Medley and Maureen Fowler were presented with the Casey Volunteering Pair Award for their work in delivering the KC Dog Education Program for Neighbourhood Watch Casey.
Helen and Richard Crago from Devon Meadows received a commendation for their volunteer work with the Cranbourne Library.
Community groups from the area that had their work recognised include the Cranbourne Regional Uniting Church Food Truck, Backpacks 4 VIC Kids and the Casey Youth Action Committee.