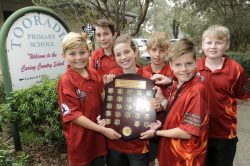 By Victoria Stone-Meadows
Students at Tooradin Primary School have taken out the top prize in round three of the Victorian Human Powered Vehicle series.
Teams from primary and secondary students from around the state converged in Knox where they raced in their modified vehicles for six hours.
Tooradin Primary entered two teams into the race – The Red Rocket and the Flamin' Mozzies – with each team made up of eight boys and eight girls from the school.
The Red Rocket team took out first place in the Junior Secondary category, winning by a convincing 10 laps ahead of the competition.
The Flamin' Mozzies team also placed well with the group ending the race in fifth place.
"For many of our students this was a challenging course as half the race was up hill and the other half they had to concentrate on controlling their speed and vehicle on the demanding downhill stretch," Tooradin Primary wellbeing co-ordinator Rachel Davis said.
"Our students excelled at supporting and encouraging each other to overcome the challenges and experience an amazing sense of courage and pride in themselves."
The school will continue their training and teamwork while working towards the series championships at Casey Fields in October.
"Thank you to all our generous sponsors who contributed to our program and assist in our students continued development of health, fitness and teamwork," Ms Davis said.