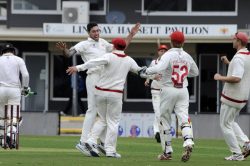 VICTORIAN PREMIER CRICKET
QUARTER-FINAL PREVIEW
FITZROY-DONCASTER v CASEY-SOUTH MELBOURNE
Saturday 11 March, Sunday 12 March, Schramms Reserve
By Nick Creely
When Lachlan Sperling and his Swans stride onto the turf on Saturday, it will end a 2191-day drought between finals.
In almost six years devoid of success, Casey-South Melbourne has well and truly built from the bottom and endured as much disappointment as a sporting club can handle.
The club last tasted First XI success in 1967/68, in what has been an almost 50-year period lost in the wilderness.
When the Swans last made finals in 2010/11, only four of the current players selected on Saturday were at the club, but none had yet earned their First XI cap – Dylan Hadfield, Brendan Rose, Jordan Wyatt and Ryan Eaton were all plying their trade in the lower grades.
Over the course of the last six years, a raft of star players, such as Andrew Perrin, Matthew Wade, Clive Rose, Jayde Herrick, Damien Wright, Peter Trego, Tom Hussey and Rob Elston to name a few departed the club.
Adding to this, the club lost their two highest run-scorers in 2015/16 in James Seymour and Kasun Suriaratchie.
Often throughout what has been a remarkable season in many respects, Swans coach Brian Keogh has often spoken about the list being ahead of its time, but at the same time he has never really been surprised with how far they have come.
And with steel in their eyes throughout this season, Keogh has united and shaped the most inexperienced Premier list in the state into one that is as potent and dangerous as any in the competition – and ensured the Swans stayed true to their pledge to develop their young kids.
Keogh's philosophy of urging his side to take it moment-by-moment is simple, poignant yet highly effective.
Their most inspired decision on a tactical front this year has been forming a make-shift opening partnership with the bat – Luke Manders, who started the year in the Second XI middle-order, has emerged into a bona-fide star at the top-of-the-order, while Devin Pollock, who had never opened at the level before, was sprung with the responsibility and has since flourished.
Looking down at the list, their skipper Lachlan Sperling has grown even further as a leader and seems primed to lead the Swans into a successful era, while others such as Jordan Wyatt, Michael Wallace and Ryan Eaton are forming a lethal middle-order trio.
And their bowling, which had let them down at times at the start of the year, is coming-of-age – led by Nathan Lambden and Brendan Rose, the Swans possess two unique weapons capable of ripping apart any batting order.
Leigh Diston and Jackson Fry have had an impact that cannot be understated and are vital components of the attack, while Dylan Hadfield adds the consistency and reliability needed from an all-rounder.
A premiership this season has gone from a distant dream to a reality that can be grasped in both hands, and the belief that has risen from every cover-drive and every catch in the field can take the Swans to glory.
But their opponent, Fitzroy-Doncaster is coming off a premiership themselves, and simply knows how to win when it matters most.
Everyone can recall their utter dominance in last year's one-sided grand final win over Ringwood – it was a team supremely confident in rising for the big moments.
They are well drilled, and possess some of the most elite talent in the competition – with the bat, Peter Dickson, Lloyd Mash, Trent Lawford, Matthew Frith and Nat Vardi make up a pretty formidable unit, while with the ball Lawford, Ejaaz Alavi and Chris Moore are dangerous.
LAST TIME THEY MET:
Back in Round 14, the Swans defended 306 on their home turf, bowling the Lions out for 284. On day one, Luke Manders struck a glorious maiden century, compiling 159 at the top-of-the-order, while Trent Lawford was prominent with the ball, taking 4/58. On day two, it was Brendan Rose who starred, taking 5/75 to dismantle the Lions despite some terrific performances by Peter Dickson and Lloyd Mash with the bat.
Casey-South Melbourne
Semi-Final 1st XI
Luke Manders – 11 matches, 401 runs at 30.85, HS 159
Devin Pollock (wk) – 16 matches, 516 runs at 27.16, HS 69
Michael Wallace – 16 matches, 425 runs at 26.56, HS 95
Lachlan Sperling (capt) – 16 matches, 448 runs at 24.89, HS 80, 11 wickets at 23.91, BB 2/3
Ryan Eaton – 16 matches, 366 runs at 21.53, HS 64
Jordan Wyatt – 11 matches, 304 runs at 23.38, HS 92
Dylan Hadfield – 16 matches, 388 runs at 25.87, HS 64, 12 wickets at 33.67, BB 2/25
Brendan Rose – 16 matches, 173 runs at 14.42, HS 30, 38 wickets at 17.53, BB 5/37
Nathan Lambden – 16 matches, 138 runs at 12.55, HS 38, 25 wickets at 23.04, BB 4/34
Leigh Diston – 15 matches, 84 runs at 21.00, HS 30*, 14 wickets at 42.64, BB 3/46
Jackson Fry – 11 matches, 16 runs at 5.33, HS 7, 15 wickets at 23.67, BB 3/34

WHAT THE CAPTAIN SAYS:
"The buzz around the club is fantastic at the moment – it's all very exciting to be honest." – Lachlan Sperling
"We're in new territory really – we've only got one bloke who's played in a Premier Cricket final, so I mean it's all about embracing it really and treating it like any other week.
"We've got a lot of belief amongst our group – we have 11 blokes who want the moment, and that's why we've been successful and won a lot of close games this season."

PLAYERS TO WATCH:
Swans' speedster and spearhead Nathan Lambden is crucial to their success on the weekend – His importance to the balance of the side is crucial – he chimes in with handy runs but more importantly sets the tone with the new ball. As one of the quickest bowlers in the competition, rattling the opponent early will go a long way to obtaining the desired result. He is yet to fully crack a game wide open this year, but continually takes key wickets and will undoubtedly rise to the occasion.
For the Lions, big all-round star Trent Lawford is capable of some freakish things, and is easily their most important player. He is the capability to bowl long spells, but also the ability to hit quick runs or occupy the crease if need be. He has had a solid season, but not spectacular, but the big occasion may just bring out his match-winning best.

THE FINAL WORD:
For a success starved club, a finals appearance is often an overwhelming occasion. But the Swans are a side that relish a challenge, and will not allow a powerful side like the Lions dictate terms. A win will come from a collective three-part effort of fielding, batting and bowling. When all those elements come together, the Swans play the cricket befitting of premiers. But the task of playing away from home is a tough one, but one that could define them as cricketers.