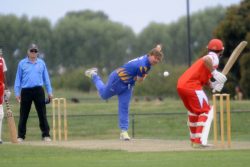 Ahead of the DDCA finals beginning on Saturday, Star News Group journalist NICK CREELY has chosen his Team of the Year in Turf 1 for 2016/17.
Matthew Hague (Dingley) – 11 matches, 507 runs at 46.1, HS 136
An absolutely stellar first season in the DDCA it was for Hague. Coming in from South Australia, the classy opening batsman played some vital knocks in what was an exciting debut season in Turf 1 for the Dingoes. Made three half-centuries and a terrific century in just 11 innings.
Ian Daniel (Mordialloc) – 11 matches, 438 runs at 39.8, HS 102, 25 wickets at 12.0, BB 5/18
The Bloodhound all-rounder had yet another brilliant individual season, and looms as the side's most important player in their upcoming finals campaign. On a statistical front, Daniel scored four half-centuries and a brutal century, as well as taking a five-wicket-haul with his seamers.
Janaka Liyanabadalge (Narre Warren) – 10 matches, 561 runs at 43.2, HS 83, 10 wickets at 30.4, BB 3/19
In a truly tough season for the Magpies, Liyanabadalge was a constant shining light. The classy middle-order batsman played some outstanding knocks in low team totals, and always came in under the pump. He made seven half-centuries for the year in just 14 innings, and towards the end of the year started to ramp up his bowling, taking vital wickets and bowling long spells.
Matthew Chasemore (Cranbourne)- 11 matches, 539 runs at 67.4, HS 148, 15 wickets at 24.0, BB 4/34
The standards of one of Victoria's most elite club cricketers never seem to drop off, with Chasemore putting in yet another stellar Turf 1 season for the Eagles. The reigning Wookey Medalist is a chance to go back-to-back, such is his dominance over the competition. Made four half-centuries and one century, as well as chiming in with over a wicket a game. His Twenty20 form however was extraordinary, scoring four centuries in this format over the course of the year.
Steven Spoljaric (Cranbourne)- 11 matches, 681 runs at 85.1, HS 158, 25 wickets at 18.4, BB 5/19
The legendary cricketer has had some sensational season's of cricket, whether it be in Victorian Premier Cricket or in the DDCA. But 2016/17 is among his best season of all. Three centuries in total, with another two half-centuries, Spoljaric was a dominant force once again. With the ball, Spoljaric was once again among the top of the wickets in the competition, with a five-wicket-haul earlier in the year his best performance. A massive chance to win yet another Wookey Medal.
Jarrod Armitage (Berwick)- 10 matches, 395 runs at 39.5, HS 113, 27 wickets at 16.2, BB 6/27
After crossing from Springvale South, Armitage had a brilliant debut season with the Bears. Started the season with two successive Turf 1 centuries, he was solid with the bat thereafter without dominating. But he then flourished with the ball, bowling some seriously quick spells, and being part of one of the best bowling attacks in the competition.
Craig Slocombe (Springvale South) – 11 matches, 289 runs at 28.9, HS 82, 20 wickets at 10.0, BB 5/7
Surely there's not much else to prove for one of the DDCA's greatest ever cricketers, but Slocombe had a terrific season captaining the Bloods. Was handy with the bat, and made a match-winning 82 in the last round, but it was his bowling that was mind-boggling. Averaged two wickets a game at an economy of 1.9 from 107 overs. Against Dandy West earlier in the season, he took 5/7 from 15 overs, and became one of the trickiest slower bowlers to face in the competition.
Brodie Yapp (HSD, keeper) – 10 matches, 214 runs at 23.8, HS 51, 11 catches, three run-outs and one stumping.
The Cobras' keeper had a consistent season with the gloves and bat, averaging a catch a game with his clean glove-work. Yapp wasn't as prominent with the bat post-Christmas, but still made over 200 runs for the season.
Jarrod Goodes (Berwick)- 11 matches, 214 runs at 23.8, HS 54, 27 wickets at 12.4, BB 4/18
Statistics don't quite do justice to Goodes' impact as skipper of the Bears and a bowler. Bowled over 150 overs for the season at an elite economy of 2.2, and partnered with James Wilcock and Jarrod Armitage, formed a tremendous bowling trio. Was also very handy with the bat, playing some aggressive counter-attacking knocks lower down the order.
Jasenthuliyana Chathuranga (Dingley)- 11 matches, 137 runs at 22.8, HS 37, 26 wickets at 17.6, BB 6/44
Went under the radar for most of the season, but the Dingoes spinner is a star, bowling almost 200 overs for the season, with an excellent strike-rate of 45.5. What was most impressive about his season was his unrelenting accuracy, and his ability to chime in with handy runs in the tail.
Stuart Squires (Mordialloc) – 11 matches, 148 runs at 24.7, HS 44, 31 wickets at 11.8, BB 5/39
The spearhead of the Bloodhounds is definitely not a tail-ended batsman, but has to be in the team. Is arguably the competition's best bowler alongside Spoljaric, and has been a major player in the club's rise into premiership contention. Bats well but more importantly takes mountains of wickets in what is likely to be a season in which he pushes for a maiden Wookey Medal.
Other contenders: James Wilcock (Berwick), Jordan Hammond (Hallam-Kalora Park), Chathura Athukorala (Mordialloc), Ben Hillard (Hallam-Kalora Park), Jurgen Andersen (North Dandenong), Kaushyla Weeraratne (HSD), Peter Atkinson (Dandenong West)