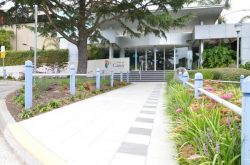 By Victoria Stone-Meadows
Casey Council will have a new face at the table in under a month, following the shock resignation of Councillor Steve Beardon on Wednesday 8 March.
Cr Beardon tendered his resignation to Casey Council CEO Mike Tyler on Wednesday, following an alleged argument between Cr Beardon and a female member of council.
The alleged argument took place on Tuesday 7 March, following a council meeting where Cr Beardon was officially reprimanded and two investigations were launched into his conduct over recent months.
Casey Council announced a countback of votes from the October 2016 general election would be used instead of a by-election to determine who will replace Cr Beardon as one of two representatives of the Mayfield Ward.
The Victorian Electoral Commission (VEC) has confirmed while no date has been set for countback, the law requires a replacement councillor to be selected within 28 days of a resignation.
The VEC said a notice regarding Cr Beardon's resignation would be published Thursday 16 March and the countback would be at least 14 days after this.
The ballot papers from the October 2016 election that elected Cr Beardon to office will be included in the countback.
The likely candidates to replace Cr Beardon that received the highest number of first preference votes are former councillor Gary Rowe and candidates Rob Ward, Suzanne Lokot, and Shabnam Safa.
Gary Rowe was the last candidate to be ousted behind Cr Beardon in October 2016 when Cr Beardon achieved just 92 more votes than Mr Rowe on the 30th vote count.
Mr Rowe launched legal proceedings against the VEC in December 2016 because he was denied a recount by the returning officer that was dismissed by a judge on the morning of Thursday 9 March.
"I have been in discussions with a judge and the VEC and in the end the judge said that probably the margin was too great and he wasn't going to grant a recount anyway," Mr Rowe said.
When asked if he would return to Casey Council if elected following the upcoming countback, Mr Rowe was noncommittal.
"I haven't given it much thought," he said.
"I would have to look at what I'm doing professionally and if it's going to suit what I need to do."
"I would always love to serve but I question the process of councils and the bureaucracy of councils."
Meanwhile, the resignation of Steve Beardon leaves Cr Amanda Stapledon as the sole representative of Mayfield ward.
"I'm not daunted by that," she said.
"I am committed to representing my ward, to the best of my ability and am up to date with most things so I am happy to respond where I am needed."
Casey Council was contacted regarding the cost of inducting a new councillor and the impact on public perception of the council following Cr Beardon's resignation, but declined to comment.