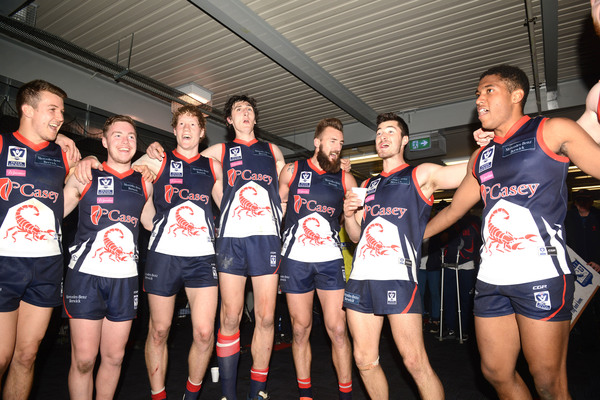 The Casey Scorpions VLF Club has taken a step closer to the Melbourne AFL Football Club by adopting the new name of the Casey Demons.
The rebranding will see not only a new name, logo and uniform but the club will also record a new theme song to align with its new image.
The Casey Demons are launching a competition to provide talented City of Casey residents to perform, record and launch the new Casey Demons theme song.
Music and Lyrics to Grand Old Flag will be provided to entrants upon registration into the competition and there are criteria in place for the winners to keep the entrants thoroughly local.
The winning applicant must be able to participate in an audition, be a City of Casey resident, be able to perform and record at a time to be determined by the club and agree to be promoted via social media and newspaper media.
The competition is being run by councillor Amanda Stapledon and she said there are a few things that organisers are looking for in the new voice of the Demons.
"It's an exciting community development opportunity and we are reaching out to our preforming artists because I know we have great talent in Casey," she said.
"It's an opportunity to be the voice behind the new club and we hope a wide variety of artists get involved from individuals to duos and collectives, and a mix of male and female voices.
"Basically, we want people that can bash out a great anthem and for those that really can't make the audition we will look at taking recorded submissions as well."
For further information regarding the application process contact Amanda Stapledon on 0418 116 089 or at astapledon@casey.vic.gov.au.