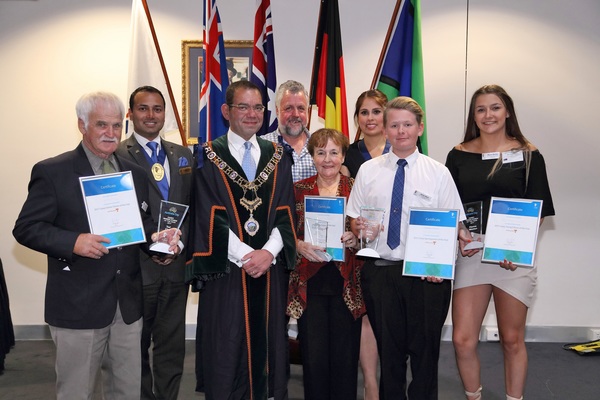 By Victoria Stone-Meadows
The 2017 Casey Council Australia Day awards were presented to five people and two events at a ceremony at the Casey Council offices on the night of 26 January.
There was stiff competition across all the categories and the winners were picked for their dedication and stand-out performances in serving the communities of Casey.
"I am proud the City of Casey has many wonderful residents who make an invaluable contribution to the Casey community," mayor Sam Aziz said.
"From helping those less fortunate and volunteering in sporting clubs to assisting in emergency response and simply seeing a need and filling a gap."
Cr Aziz said the awards were more than recognition of people's work but an opportunity to say thank you to those who volunteer their time for others.
"The Casey Australia Day Awards provide us with an opportunity to say thanks to those who go above and beyond in their local community and play a positive role in making Casey a wonderful place to live, work and raise a family – your contribution does not go unnoticed," Cr Aziz said.
The Casey Citizen of the Year award was presented to Anne McGill of Berwick for her work with Rotary Inner Wheel both within Australia and internationally.
A member of the Narre Warren Inner Wheel for 36 years, Ms McGill has inspired members to raise over $2.5 million for various community causes.
She said she wasn't expecting to receive the award but was grateful for the people of Casey for affording her the opportunities she has had.
"I was completely overwhelmed, it was just lovely – I wasn't expecting it," she said.
"I wouldn't have been involved without being a member of Inner Wheel and all the support they gave in all the events and activities I have run."
Ms McGill has also worked tirelessly in Casey on the Wilson Botanic Park committee, a founding member of the Berwick Highland Games, 25 years of service to the City of Casey Meals on Wheels program, and ongoing volunteering with the Cancer Council of Victoria.
"I am very thrilled and pleased and appreciate the people that nominated me," she said.
The Casey Young Citizen of the year was awarded to 16-year-old Alyssa Weston from Cranbourne for her outstanding work with the Casey Basketball Association on and off the court.
Ms Weston plays for the Casey Cavaliers representative junior and senior teams and is a Big V women's development player.
She also coached young girls, representative teams and children with autism all while studying with the selective sports academy at high school.
Her dedication to the sport of basketball and her commitment to coaching the next generation of players has built her into a highly positive role model for women's sport both in Casey and abroad.
Casey Senior Citizen of the Year was received by Edward (Ted) Clay of Tooradin for his long and dedicated involvement with the Tooradin fire brigade.
Mr Clay first signed up with the brigade in 1956 and has held four distinct leadership roles over his 60 years of service, including captaining the brigade for 22 years.
Having stepped down from the leadership, he still serves the brigade as treasurer and fire equipment maintenance officer.
Casey Sportsperson of the Year is Reiley Mark from Berwick, a promising young cricketer who at age 13 has achieved more in the sport than men twice his age.
He started playing outdoor cricket with Lynbrook Cricket Club at nine years of age and his cricketing career has taken off since then.
Reiley represented Victoria three years running, won three national titles, and been named an Australian All Star as well as the vice-captaining the Australia A team on his first international tour in 2015.
This year, the City of Casey awarded a Casey Non-resident of the Year prize to a man who has done a lot of work the people of Casey but doesn't actually reside here.
David Nugent, founder of Heavy METAL (Men's Education Towards Anger and Life) which operates from the Hallam Senior College, was awarded the prize.
His program offers behaviour change and counselling support to men, women and children affected by family violence.
Always working to improve the people of Casey, he organised a community screening of the ABC documentary 'Call Me Dad', is involved in White Ribbon Day events and advocates to the State Government on important community issues.
There were two separate awards for community events this year with events from Berwick and Cranbourne taking out awards.
The Casey Community Fund-raising Event/Activity of the Year was given to Frost Week, Cure de Berwick, lead by the Berwick College Frost Learning Team.
The team of 160 students rode on stationary bikes fitted with odometers and through sponsorship of the kilometres ridden raised over $5000 for the Leukaemia Foundation.
The Casey Community Event/Activity of the Year was awarded to the Cranbourne Community Christmas Lunch hosted by the Cranbourne Turf Club.
The event consists of a special Christmas lunch held for around 300 disadvantaged or vulnerable members of the Casey community.
Christmas Lunch 2016, held on 20 December, was a collaboration between the Cranbourne Turf Club, The Salvation Army Cranbourne Community Support Services and the Cranbourne Information and Support Service.
Congratulations to all nominees and winners from across the Casey region.