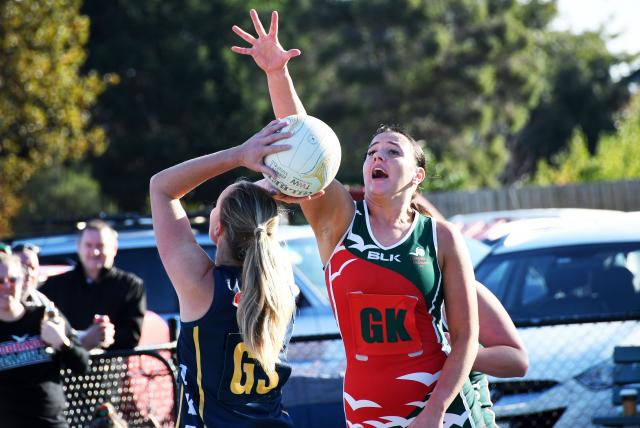 By David Nagel
The destination of this year's A Grade netball premiership is still very much unknown after a classic contest between Tooradin-Dalmore and Inverloch-Kongwak at Tooradin on Saturday.
The Seagulls prevailed 47-43 in a high-quality match between the two best performed teams of 2022 – where scores were locked as late as mid-way through the third quarter.
But Tooradin's fast start, and ability to surge late after a spirited Inverloch revival, saw the home side end the day as the only undefeated team in the competition.
Tooradin led 14-10 at quarter time, with Alex Maher (GS) having the hot-hand in goals scoring 12 of her team's score.
Kayla Bratic (GA) set Maher up with some sharp passing in the circle, while Chloe Crouch (C), Alex Duff (WA) and Stacey Sawyer (WD) had plenty of ball through the midcourt.
Jess Maher (GK) and Ebony Dolan (GD) were giving the Inverloch goalers very little room to breath in an impressive start from the benchmark team of the last few years.
But Inverloch sits near the top of the table for a reason, with coach Jarrad Walker making some slight tweaks to his line up for the second term…and his team responded in style.
Kelly Boyd (GS) took over the main goal-scoring duties from Ella Sadler, who moved to goal attack, with Tayla Robb taking a seat on the sidelines.
The moves paid off handsomely for the Sea Eagles, who won the quarter 14-11 to narrow the margin to a 24-25 deficit at half time.
The third quarter was an absolute cracker, with Tooradin extending its lead early, before Inverloch squared the scores…before the Seagulls finally took the initiative with a brilliant finish to the third term.
Boyd and Dolan were having a great battle at Inverloch's end of the court, while the skill and composure of Alex Maher (GS) and Duff (GA) – who was moved back to her familiar role in goals – played a critical part in the Seagulls' match-winning surge.
The Seagulls maintained their margin throughout the last quarter to claim their biggest win for the season.
Dolan, Jess Maher and Sara Howie were terrific in defence for the Seagulls, while the visiting Sea Eagles will learn a lot from this week's result.
They matched-motors with the home side for the majority of the match, with one or two concentration lapses proving costly.
But players like Renee Pilkington (C), Lanni Pryor (WA) and Rahni Mann (WD) will walk away from their midcourt battle knowing the task is very achievable, while the efforts of Tayla Smith (GK), Millie Sadler (GD) and Boyd will hold the Sea Eagles in good stead moving forward.
One thing is for certain…that these two will be around come the very pointy end of the season.