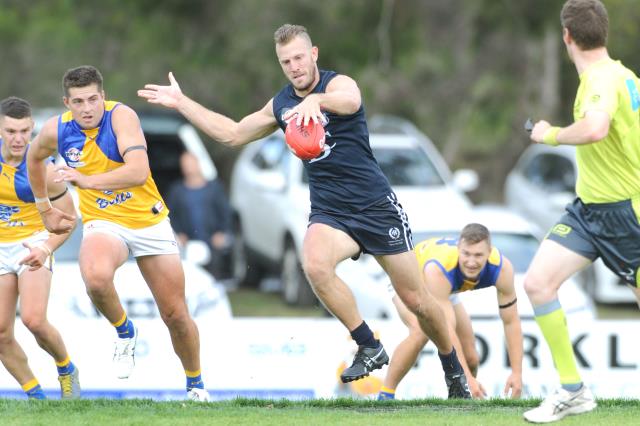 By Nick Creely and David Nagel
2021 SPORT REVIEW – FOOTBALL
The AFL Outer East competition (now known as the Outer East Football Netball League) will be left wondering what could have been after Covid-19 ravaged yet another season of football and netball.
And it was promising to be a season with many twists and turns, and one with storylines that almost write themselves.
Coming into the season, one of the great storylines was the return of Cranbourne legend Marc Holt to his home club after a stint with Karingal, while Beaconsfield – under master coach Mick Fogarty – were looming as the team to beat.
While sitting there quietly, going about its business with no fuss or flair was 2019 reigning premiers Narre Warren, with a few changes to its list but hungrier than ever to defend its Premier Division mantle.
But after many stops and starts, the season ended for good on Saturday 10 July, as the gravity of the situation facing Metropolitan Melbourne worsened by the day.
Despite a second-season in a row of no grand final day, no joyous celebrations after a year of hard work, sweat and tears, there were many aspects to reflect on.
Beaconsfield were crowned minor premiers in Premier Division, winning all of its eight matches, Cranbourne finished second with five wins from eight matches, while in third Narre Warren had six wins next to its name.
Pakenham and Olinda Ferny Creek rounded out the top five with wins apiece and will be hoping to build on that momentum in 2022.
In Division 1, Monbulk finished top-of-the-table, with Mt Evelyn, Gembrook Cockatoo, Officer and Seville making up the top-five in what was an incredibly even and balanced season.
Individually, Holt was crowned the leading goalkicker of the competition with 30 goals in Premier Division and loomed as a huge x-factor heading towards finals, while Division 1 saw another great sharpshooter, Monbulk's Taylor Joyce, lead the competition tally with 33 goals.
Despite playing under 10 games, the Outer East announced its league best and fairest winners, with Narre Warren superstar Trent Cody rewarded with the Premier Division's Shane Smith Medal.
The Magpies midfielder/half-forward – who was named skipper of the Premier Division Team of the Year – was a class act in 2021, averaging 22 disposals and two goals per match this season, combining sheer power through the middle and a strong goal sense to dominate the competition.
In Division 1, Officer midfielder Anthony Bernardo and Seville forward Nathan O'Keefe clinched the Harold Ramage Medal for League Best and Fairest with 11 votes.
The first-year Kangaroo was the dominant midfielder of the competition in 2021, ranking number one in the competition for disposals, second for clearances and third for contested disposals.
O'Keefe – the champion goal kicker – was a class act for the Blues this season and also named as Team of the Year captain, averaging 23.5 disposals per match and almost three goals a match.
In netball, Cranbourne star Tara Cecil clinched the top award for 2021, taking out the Jodie Chandler Medal for Premier A Grade League Best and Fairest. In Division 1, Gembrook Cockatoo star Paige Laner took out the League Best and Fairest after an outstanding season, sharing the award with ROC's Samantha Neil. The pair finished on 11 votes.
But the headlines didn't stop after the season came to a close, with the Outer East undergoing a significant re-jig for 2022.
Cranbourne (Southern Football League), Doveton (Southern Football League), and Beaconsfield (Eastern Football League) all departed the competition at the end of the season for a variety of reasons, with the three clubs citing new opportunities and further chances for growth in the future as major catalysts.
The competition itself switched from AFL Victoria Country to a Metropolitan League in 2022 in readiness for what will be a new-look competition next season, releasing a new-logo as well as it looks to create more certainty and stability for its clubs in the future.
Berwick, meanwhile, proved very competitive in its first season in the powerful Eastern Football Netball League Premier Division.
The Wickers – who transferred across from Outer East – suffered a heartbreaking two-point loss to Noble Park in round one, but would go on to win three of their nine games played to finish the season in seventh position on the ladder.
Full-forward Harry Money would kick 24 goals to finish second on the league goal-kicking table.
And what was shaping up to be a brilliant conclusion to another wonderful season in the West Gippsland Football Netball Competition (WGFNC) was cut short as Covid-19 continued to play havoc with the great Australian games of football and netball.
The 2021 season started with a bang, with returning Cora Lynn star Anthony Giuliano kicking a goal after the siren to give the Cobras a three-point victory over Inverloch-Kongwak.
But, when Covid-19 finally won the battle – and the season was ended on Saturday 10 July – only 11 rounds of the WGFNC season had been completed with Phillip Island once again being the trend-setters.
The Bulldogs were declared minor premiers after winning 10 games and ending the season with an impressive percentage of 302.99, almost double that of their nearest pursuer Inverloch-Kongwak (nine wins – 156.80).
Tooradin-Dalmore, Nar Nar Goon and Cora Lynn finished equal on eight wins, while a low-scoring – but equally hard to score against – Garfield rounded out the final's contenders with seven wins from its 11 games.
Other minor premiers for the season included Phillip Island in the reserves, Garfield in the thirds and Tooradin-Dalmore in the fourths.
From an individual standpoint, Cora Lynn's Nathan Gardiner kicked 50 goals to take out the league goal-kicking award in the seniors, with Tom Mclean (Bunyip) kicking 26 goals in the reserves, Will Taylor-Eagles (Phillip Island) slotting 27 goals in the thirds, and Anthony Mirauta (Tooradin-Dalmore) bagging an impressive 37 goals to take home the fourths goal-kicking award.
Despite only 11 games being played, it was still enough time for the best players in the league to stand out from the pack with former Melbourne and North Melbourne star Cam Pedersen continuing his domination of the league – winning a second-consecutive league best and fairest award…polling 16 votes to defeat equal runners-up, his Phillip Island skipper Jaymie Youle and Gardiner from Cora Lynn.
Ben Miller from Kooweerup polled 17 votes to win the reserves, Duoth Jock from Cora Lynn jagged 12 votes to claim the thirds medal, while Ben Tenace-Greenall from Garfield attracted 17 votes from the umpires to take out the fourths.
Inverloch-Kongwak were announced as Club Champions for 2021 after a super-consistent season across all grades.
In netball, Korumburra-Bena goaler Kim Hillberg won the A Grade medal, polling 18 votes to win by three from Tooradin-Dalmore's Alex Maher, with Inverloch-Kongwak's Amy Hodge winning the B Grade award with 18 votes.
Other award winners in netball were Abby Morgan (Inverloch-Kongwak – C Grade – 22), Esther Allan (Nar Nar Goon – D Grade – 17), Sienna Green (Warragul Industrials – 17 Under – 20), Lily Coco Mewett (Phillip Island – 15 Under – 22), Kira Wilson (Warragul Industrials – 13 Under – 24) and Torah Boyd Metselaar (Inverloch-Kongwak – 11 Under – 16).
Minor premiers for the season were Dalyston (A Grade, Phillip Island (B Grade), Inverloch-Kongwak (C and D Grade), Kooweerup (17 Under) and Korumburra-Bena (11, 13 and 15 Under).
There were some great reunions that took place in 2021 with Kooweerup and Tooradin-Dalmore staging two great events throughout the season, while in the Ellinbank and District Football League (EDFL) it was fantastic to see Lang Lang open its state-of-the-art new facility at Caldermeade for its opening-round clash against Poowong.
And the future of the WGFNC is looking bright after its member clubs voted unanimously to form their own entity and become an incorporated association.
Until now, the clubs – Bunyip, Cora Lynn, Dalyston, Garfield, Inverloch-Kongwak, Kilcunda-Bass, Kooweerup, Korumburra-Bena, Nar Nar Goon, Phillip Island, Tooradin-Dalmore and Warragul Industrials – were an entity as part of AFL Gippsland.
The vote resulted in 18 presidents – those of the 12 football clubs and six independent netball clubs – become directors of the league, giving them the ability to have more say in the future direction of the WGFNC moving forward.
From an operational point of view nothing much changes, but the clubs now have more power in making decisions that impact the financial security and competition structure in the future.