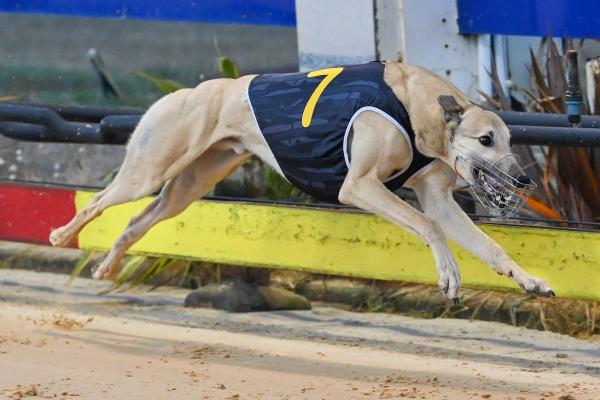 By Gerard Guthrie
Jax Bale delivered on the enormous potential he showed early in his career when claiming his first Group victory in Saturday night's $71,250 Group 2 Backmans Greyhound Supplies Cranbourne Cup Final (520 metres) to close out the 2020/21 Gippsland Festival of Racing.
The Andrea Dailly-trained Jax Bale made an immediate impression when starting his career just on a year ago, running second to champion Simon Told Helen in the Group 1 Harrison-Dawson and contesting the Warrnambool Cup Final in his first 13 starts.
But a feature victory had eluded him until he ventured to Cranbourne.
Jax Bale made his Cranbourne debut in the Cup heats and won in 30.02 seconds, the 'slowest' of the four run-offs.
Drawn in Box 7 in the final, Jax Bale started $5.20 in a very even affair, and he delivered his trainer her fourth Cranbourne Cup, with the Anakie trainer winning previously with Pastrana Bale (2005), Pororoca (2006) and Mossimo Bale (2018).
In a race devoid of enormous early speed, Jax Bale came out running to lead rails runner Lot Of Chatter and proceeded to open up an insurmountable lead.
Boasting middle distance form, Jax Bale was never going to be caught, winning in a flying 29.68 seconds and claiming a $50,000 first prize.
"He got a clear run early, which is what you need in these big races," said Andrea Dailly's husband Tom.
"He got to the front and while there was a little bit of trouble behind him he still ran time. He ran a real good race.
"He has been a consistent dog. He's been racing around the city tracks most of his life, which is quite hard, but he goes to the country every now and again and it was good to see him win a race like this."
Six of the eight finalists were trained in the Cranbourne region, including the minor placegetters Equalizer (beaten less than two lengths) and Squiggle Keeping, both trained at Pearcedale by Jason Thompson.
Remarkably, Thompson has won a country cup at all 11 provincial tracks throughout Victoria except the Cranbourne Cup, which is his local race club.
Dailly confirmed that Jax Bale will now head to the heats of the Group 1 Australian Cup at The Meadows on 20 February.
Dream Wizard, trained at nearby Devon Meadows by Sean Lithgow, threatened Jax Bale for best of night honours with a runaway 29.71 seconds success in the Ram Locksmiths Cup Night Match Race (520 metres) over Run Baba Run.
The first feature event of the night was the GRV Vic Bred Maiden Final (520 metres) where Mario Briganti's near-record heat winner Freda Rocks stifled betting at $1.20.
But veteran Pakenham South breeder/trainer Geoff Scott-Smith landed a homebred quinella, with $37.40 outsider Dundee Flame holding on to defeat litter sister Dundee Ember ($18) in 30.65 seconds, with the siblings being daughters of Scott-Smith's three-time Group 1 winner Dundee Osprey.
Morning Peninsula-based Briganti bounced back from the disappointment of Freda Rocks' defeat to take out the Casey Steel Victoria Cup (699 metres) with Pilbara ($5.10) scoring in 41.45 seconds, while the Van Echteld (311 metres) went to Jeff Galea's Major Minter ($7.20) in 17.59 seconds.
The Cranbourne Cup was the third and final leg of greyhound racing's 2020-21 Gippsland Festival of Racing following the Group 1 Sale Cup (650 metres) – won in eye-catching fashion by Houdini Boy on Boxing Day; and last month's Group 2 Warragul Cup (460 metres) – won in brilliant fashion by Aeroplane Eric.
2021 CRANBOURNE CUP
1st: Jax Bale (Andrea Dailly, Anakie)
2nd: Equalizer (Jason Thompson, Pearcedale)
3rd: Squiggle Keeping (Jason Thompson, Pearcedale)
2020-21 GIPPSLAND FESTIVAL OF RACING WINNERS
Sale Cup: Houdini Boy (Kelvyn Greenough, Pearcedale)
Warragul Cup: Aeroplane Eric (Glenn Rounds, Devon Meadows)
Cranbourne Cup: Jax Bale (Andrea Dailly, Anakie)