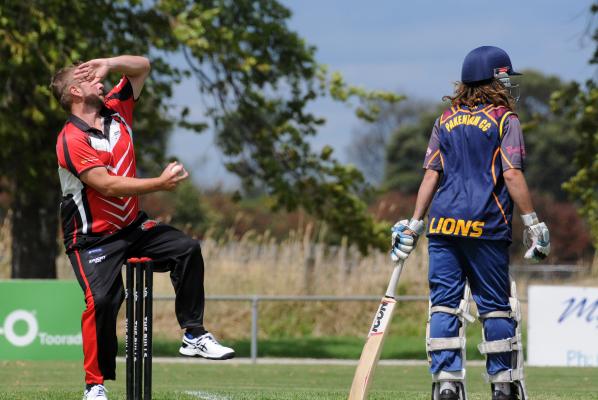 By Sports Editor Russell Bennett
There really isn't much that fazes Dwayne 'Funky' Doig.
After all, there isn't much that the now 40-year-old hasn't experienced on a cricket field.
But Saturday was different – a rare occasion of unfamiliarity.
Not only did Doig enter the blockbuster WGCA Premier clash with Pakenham sitting on 599 first XI wickets for his beloved Cardinia, the day also marked the first life members and sponsors day since the tragic passing of his great friend and mentor Ian 'Cambo' Campbell, who was in many ways the beating heartbeat of the Bulls.
With a crowd of Cardinia legends watching on, Doig – for once – felt the nerves.
Or, at least, this time he readily admitted it.
The champion offie didn't even bowl in the Bulls' commanding Round 9 win over Upper Beaconsfield, and given the enormity of the occasion on Saturday, that could have been a masterstroke from new skipper Jake Prosser.
Doig was late to answer cricket's call – not picking up the game at all until his late teens. But within a couple of years, his prodigious talent was obvious.
He's had influential stints at Cranbourne in the DDCA – where he started bowling medium pace at 18, and within two seasons in the sport won a Turf 2 flag bowling spin – and Langwarrin in the MPCA, but his heart has always been at the Bullpen.
Now the club vice president to his great mate Luke Turner, Doig is loving the current chapter of his playing career – as mentor and self-confessed "role player" in a Bulls side that's taken massive leaps forward in just a brief period under Prosser, and player-coach Bradey Welsh.
It's a role that Doig has taken with both hands after returning from a brief first XI retirement a few seasons ago to help the Bulls stave off Premier grade relegation.
It was a situation so utterly foreign, not just to Doig, but the Bulls as a whole.
Their incredible consecutive run of Premier finals appearances had come to a screeching halt, and suddenly they were clinging on to top tier survival.
But according to Doig the leadership on-field of Prosser and Welsh has played a massive role in the side's rejuvenation.
And it's also breathed new life into the twilight of his playing career.
He remembers, clear as day, when he was a young player making his way in the local representative scene alongside the likes of a then equally fresh-faced Rob Elston, who would go on to be a revered figure at Victorian Premier outfit Casey-South Melbourne and, later, Pakenham.
So it was almost fitting that on Saturday, in Doig's eighth and final over for the game against the Lions, he rattled Elston's leg stump to bring up his magical 600 milestone.
If only Cambo could have been there to see it.
Doig, like Turner, was a disciple of his.
And Cambo was their biggest fan, so much so that the meticulous Bulls record keeper even produced a special testimonial book of statistics for the pair some years ago.
It was full of detailed stats of caught or stumped Turner, bowled Doig.
In fact, that's the only reason why the Bulls have been able to accurately keep track of Doig's incredible wicket tally since – they started with that book and a broad list of other stats Cambo kept, and went from there.
In describing his great mate Doig to the Star News back in 2016, Turner said: "I'd say he's like a good bottle of red – he's getting better with age".
And it's hard to argue against that. Those comments came immediately following Doig's incredible match figures of 12/82 against Pakenham Upper/Toomuc, which included the career-best figures of 8/47 in the first innings.
"When someone goes at him he just looks at it as a challenge and takes it on even more," Turner said at the time.
"He gets this grin on his face when he gets hit for a couple of boundaries.
"He doesn't spin it that much. He can do it, but just doesn't use it that often.
"It's just that the ball drops so much you think you're getting a full-toss, but then it just drops on you that quick."
By Doig's own admission, he's not a prodigious turner of the ball.
"I just find that, technically, for a finger spinner the more overspin you get on the ball, the more variations you can bowl. If you're just going to bowl flat side-spin you'll get worked out pretty quickly," he said.
"The more overspin you can get on the ball to try and drag players out of their crease, the better."
And when he thinks about some of the best batsmen he's bowled to over the years during his time at Cardinia, they all have the same thing in common – their decisive footwork, and their ability to play forward or back.
Doig highlighted the likes of former Pakenham champion Dom Paynter, Beaconsfield's Brad Miles, Kooweerup legend Chris 'Tubsy' O'Hara, and Tooradin pair Cal O'Hare and Aaron Avery just to name a few.
But now he's passed the 600 mark, Doig can relax and continue his role as a mentor to the Bulls' current young star spinner, Trav Wheller.
No one is happier to see Wheller develop than Doig, himself, and it seems that's a sentiment echoed throughout the rest of the Bulls' experienced players as they guide the younger crop forward.
It's an ingredient that could prove key in Cardinia's quest to return to the top of the WGCA Premier mountain.
The Bulls know they'll have to overcome the likes of Kooweerup or Pakenham in a big final or two, but Saturday's result was a hell of a start.
Defeating the Lions in such a commanding performance – 4/122 in reply to Pakenham's 9/120 – has to fill the Bulls with confidence.