By Nick Creely
Now that's a cracking win from Casey-South Melbourne.
A strong team performance built off belief after three tough losses on the trot.
And in the context of the Victorian Premier Cricket season, it's a vital one for the Swans. And for its opponents.
Welcoming an Essendon side to Casey Fields which saw Ryder Medal winner James Seymour make his return after being part of the Melbourne Stars' squad, it's a fair assumption to say that the visitors were warm favourites.
But the Swans dug deep throughout the contest, clawing themselves to a memorable victory.
It took some clutch moments with the ball, and another class hand from an emerging star to claim the points.
There was always a tinge of doubt about Saturday's cricket off the back of torrential rain barraging the state through most of Friday, but the match started on time, and the Bombers sent the Swans in to face the music.
Swans openers Ash Chandrasinghe and Tillakaratne Dilshan were fluent early, and looked comfortable against the star-studded Bomber pace brigade, before Tom O'Donnell snared Dilshan for 18 to open up his account.
Michael Wallace and Chandrasinghe were also looking to build into a strong partnership, before the skipper was caught behind off young gun Cam McClure (1/27) for 16.
But it took the Bomber spinners to really make the first significant statement of the contest.
In a ripping little period of bowling, Liam Bowe (2/34) and Liam Molloy (1/48) began to take control, while James Seymour's (2/38) offies proved hard to handle.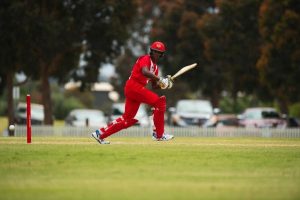 In the blink of an eye, Dylan Hadfield edged one through to the keeper off Molloy, before some clever spin from Bowe forced Devin Pollock into an errant stroke second ball that was caught at cover, before a ripper went through the gates of Chris Benedek.
Suddenly, at 5/102, the Bombers had the upper hand.
But throughout that testing period, young Chandrasinghe stood tall as he has all year when wickets fell around him, combining patience and class to cross past his third half-century in the space of seven days as he enjoys a stunning breakout season.
He's a classical opening batsman who is starting to really develop his range of strokes.
Chandrasinghe was holding the Swans together, but when the youngster reached 67, Seymour found the key wicket to remove the leftie and have the home side 6/133.
He's had little opportunity in his first three first XI games, but exciting youngster Harrish Kannan (35) helped rebuild the innings with a gem of a knock, combining for a crucial 46-run stand with Lachie Sperling (34), as the home side reached 211 from 49.3 overs.
He, too, showcased a nice range of shots, particularly to the spin bowling.
The pair ran hard between the wickets, found the boundaries when needed and helped steady a shaky ship.
One of the next big statements of the match came in the form of an electric first little period from the Swans' bowling attack, removing the three big wickets – James Seymour, Aaron Ayre, Michael Hill – a trio that have devastated bowling attacks throughout the competition within the first hour.
Quick Cal Dodson (1/53) was the first to pick up a scalp as he feed off a brilliantly economic and pressure-filled new ball spell from Jackson Fry, having Seymour caught for just one, before Tillakaratne Dilshan (2/25) had Hill chipping one to cover for five and seeing Aaron Ayre chip one back to him for 14.
It was a high-class spell of off-spin bowling from Dilshan, with his international experience and expertise well and truly on show as the Bombers slumped to 3/24 and with the run-rate required climbing.
Despite Connor Rutland (26) and James Ryan (56) combining for a 49-run stand, and Liam Molloy (57) batting superbly to try and keep his side in it, the Bombers were always up against it, entering the final 10 overs needing at least eight runs an over.
But they were always within touching distance if a couple of overs went there way.
With Swans spinner Lachie Sperling (1/7) going down with a hamstring injury 14 balls into his spell, the home side turned to young Kannan (2/55) to bowl at the death with Fry and Dodson, and the visitors charged hard, sensing an opportunity.
Despite hitting some crisp boundaries, Kannan registered his maiden Premier Cricket wicket by having Ryan caught on the boundary for a half-century, before Tom O'Donnell too fell to the young spinner while trying to launch one into Clyde.
It was a defining little spell from the youngster, and a daring one as he continued to throw the ball up, with the visitors eventually needing 17 off the final over, before Fry finished off his excellent early spell to jag a late wicket and end with the figures of 1/27 and four maidens as the Bombers fell 11 runs short. He's improved rapidly this season as he enjoys some more responsibility for the Swans.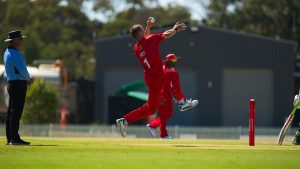 Young left-arm spinner Ash Adihetty was also vital, giving up just 22 runs from his 10 overs to be another major factor in the win.
The now 4-5 Swans are 13th on the ladder ahead of a massive home clash against St Kilda this Saturday at Casey Fields.