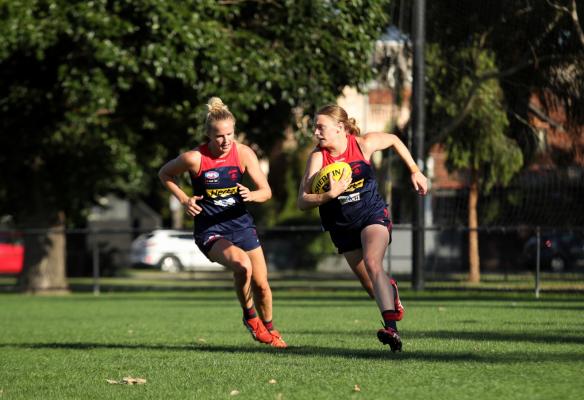 By Lance Jenkinson
Melbourne plans to bring a more direct, free-flowing and attacking brand of football to Casey Fields in the AFL Women's this season.
The Demons have a goal to move into the upper echelon of offensive teams in the league.
If the Dees can find a way to improve their scoring – they were ranked sixth in the competition last season – while proudly maintaining their No. 1 defensive rating from last season, it will be a tough team to beat in 2021.
Demons utility and leadership group member Sarah Lampard is eager to see her team's new style of attacking play on match day to see if it leads to improved scoring.
"We want to score more," she said.
"Not only will that make for good viewing, but it's also a fun way to play.
"There's a couple of good teams in the league like North and Freo who are really good at consistently getting high scores and we want to be up there as well scoring as much as we can.
"It's more of a focus on going straight to goal instead of going around the ground and always looking to transfer the ball.
"It's having more of a mindset of being more attacking and aggressive because, at the end of the day, goals win games."
Melbourne will open its season with a trip north to face the Gold Coast Suns at Metricon Stadium on Saturday.
The Demons are champing at the bit to take to the field having endured an arduous 10-month off-season after the VFLW was cancelled due to Covid-19.
"We haven't been able to play football since March, so we're all super keen to get out there," Lampard said.
Despite the lengthy off-season, Melbourne players have returned to the track in tip top shape.
The majority of the Demons group used the lockdown to get their bodies into playing shape long before the team came together for preseason.
Match sharpness might not be there right from the outset, but the Demons can guarantee that fitness will not be an issue.
"A lot of the girls have done a hell of a lot of work heading into preseason," Lampard said.
"I know our girls are pretty strong and fit heading into the season."
With a short nine-round season likely and the pandemic always looming as a threat in the background, Melbourne knows the importance of getting the season off to a flyer with a win.
The Demons could be faced with a fly in, fly out scenario on Saturday, where they arrive on the morning of the game and leave that night, so they will need to be ready for all eventualities.
And, there is also an opponent in the Suns who have shown they will not back down, which was evident in their first season of AFLW last year.
"Every game is super important," Lampard said.
"The Suns showed last year they were a really relentless team, so we've got to make sure we're ready and switched on, otherwise they could get the jump on us.
"It could be a long day for us [with a fly in, fly out scenario], so we've got to make sure we're primed and ready to go."
Melbourne's first home game at Casey Fields has been locked in for round two against Richmond on February 6.
With unique conditions at the venue and a strong home support, the Demons are looking forward to creating a big home ground advantage at the Cranbourne East venue this season.
"We can turn it into a bit of a fortress down there," Lampard said.
"We're used to the conditions, whereas other teams might not be.
"We often hold footy clinics down there, so we get quite a few Casey locals down and a lot of kids as well.
"We get heaps of support from the Casey community, which is great."