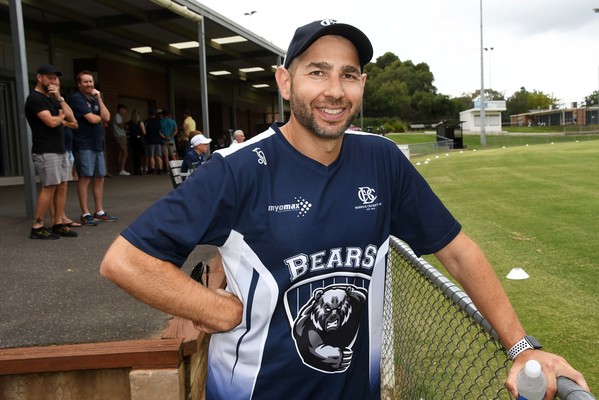 By Nick Creely
As an ex-Victorian quick with a formidable on-field record across a storied career that includes six First Class matches and a List A game, the tag of expectation is always inevitable whenever Will Carr's presence is around a cricket club.
And his latest challenge – one set to take him back into the very competition in which he made a name for himself in the early 2000s for Dandenong – will take him to Casey-South Melbourne, where he will look to steer the club as its head coach in the near future.
Carr is set to take over from the highly-regarded Brian Keogh in a succession plan, which will see the 43-year-old take over after one year as a senior assistant.
And after the recent premiership success of his home club Berwick as senior coach in the 2019/20 Dandenong District Turf 1 season, Carr told the Star News he's ready for what it takes as he makes his return to Premier Cricket.
"I've got a real appetite for Premier Cricket again, and a greater appetite for coaching," he said.
"I've grown to love the coaching side of things – I was fortunate enough to do some work with Casey last year, albeit in a small capacity, but I liked what I saw in the club."
With the Swans glittered with developing youth and a hunger for success, Carr said it was almost like a clean slate for the club moving forward.
"There's a hell of a lot of upside – they're essentially a brand new club even though they've got the history of South Melbourne, they've relocated to Casey and it brings its own challenges," he said.
"The people there are working hard, they've got fantastic facilities and the right people.
Carr will work closely with Keogh next season, in a relationship he believes is going to be extremely beneficial for the playing group.
"We're looking beyond one year definitely – BK and I have established a really good working relationship," he said.
"We want to get the most out of this year there's no doubt, but we're also keeping an eye out beyond that, not only for myself, but the playing group.
But Berwick – his cricketing home – will always hold a special place in his heart.
After returning to his DDCA club after injuries brought an unfortunate end to his professional career, Carr sought home, and won a Turf 1 premiership as a player in 2005/06.
And now, almost a decade-and-a-half later – after a culmination of hard work and patience across the last three years after turning to coaching – Carr departs the club with another Turf 1 premiership, his first as coach among two as a player.
"When I came back (to coach), we had a reasonable squad and team, but there was a few things that were lacking," he explained.
"We had a couple of stars in (Nathan) Pilon and Maxxy (Wilcock) there and a couple others, but I suppose you're only as strong as your weakest link.
"I suppose we didn't have the depth there, and a couple of stars and top-end players would probably admit they weren't playing at their best at the time, so the challenge was to get the best out of them, and all the players.
"We had some plans in place, Cheeks (Matt Chasemore) and I worked really closely to set some stuff up and it's a bit of a cliché, but it's a credit to the guys, they embraced it.
"The ultimate prize was achieved as a result."
With the Turf 1 grand final between Berwick and Buckley Ridges cancelled last season due to Covid-19 and the Bears crowned champions after finishing atop the table, Carr said there was an element of disappointment about not getting the chance to play on the biggest weekend of all.
"If you ask any of the players, as satisfying as it is to win the premiership under whatever circumstances, the players would have wanted to have played the grand final," he said.
"Obviously its out of our control, and I suppose its the benefit of finishing on top of the table, you don't know what's going to happen.
"The boys would have preferred to play the grand final."
Now as a premiership coach, as well as a player after growing up at the club as a kid, Carr said it was an honour to be able to give back to a club that's given him so much.
"The club, it's over 150 years old now, it's been such a great club for so long now, and it did so much for me," he said.
"It helped shape me personally to become the person I grew up to be, and also the player that I grew up to be.
"I've got a lot to thank the Berwick Cricket Club for, they've done so much for me personally, and to have the opportunity to give something back, and having that level of control as coach, you've got the opportunity to shape things the way you believe.
"It's not just about the Turf 1 success, we had four senior sides all feature in finals.
"To see how much the club has come on in the last three years across the board, it's very satisfying."