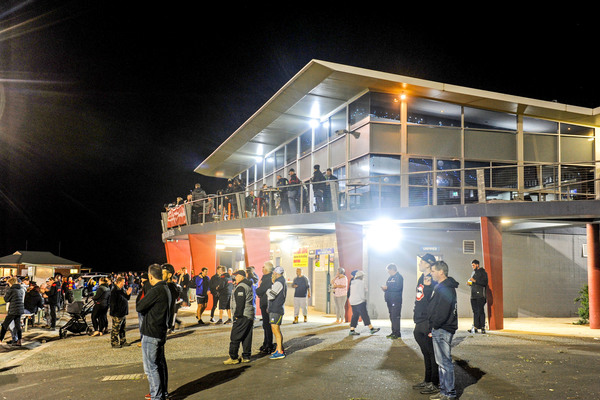 By sports editor Russell Bennett
AFL Outer East remains committed to a return to play in 2020.
As the Star News first reported, region general manager Aaron Bailey – along with commission chair Tony Mitchell – released a detailed statement to competition stakeholders on Friday afternoon, outlining their stance and their reasoning behind it.
The Covid-19 pandemic has rocked many throughout the broader community to their core when it comes to both their financial security, and physical and mental wellbeing.
So, accordingly, Bailey and Mitchell have announced that any return to play in AFL Outer East football and netball will only take place if it's feasible for the majority of clubs.
"The health and wellbeing of players, coaches, umpires, volunteers, and associated stakeholders remains a priority," the joint statement read.
Their commitment to return, they say, is "a position strongly shared by our clubs".
The AFL Outer East commission will next meet on Tuesday, 28 April where a detailed plan around a return to play will be finalised, before it's presented to clubs for feedback on 1 May.
AFL Outer East expects final announcements on the 2020 season following the State Government's current State of Emergency period, which has been extended to 11 May.
"There is a strong desire from clubs and Outer East to return playing football and netball this year," the joint Outer East statement read.
"The wellbeing and social benefits to players, supporters and club members was the key reason provided by clubs in returning – a sentiment shared by the league."
But it should be noted that the commission and clubs alike share the view that a return to play will only happen if it is safe to do so, and if clubs are financially able.
"75 per cent of senior clubs indicated they wish to return in 2020, with 21 per cent unsure, depending on costs," the statement read.
"96 per cent of clubs indicated they wish to return (this season) if costs are reduced."
AFL Outer East's preference is to start its home and away season in late June or early July, should AFL Victoria restrictions be removed at the end of May.
That would allow for a round robin pre-season before the home and away season begins.
"Our preferred return structure will be provided May 1st for club consideration and feedback, with an announcement of competition and season structures following (the) State Government's current Level 3 restriction date of May 11th," Bailey and Mitchell said.
"The majority of clubs indicated that reserves and underage competitions remained important and they would be entering sides in these competitions. Provisions will be put in place for clubs unable to facilitate Reserves."
Crucially though, according to Bailey and Mitchell, each and every one of the AFL Outer East clubs supported a salary cap reduction for 2020, with a whopping 88 per cent of those in favour of a further reduction from 2021 onwards.
That indicates just how heavily clubland has been affected of the events of recent weeks.
"The AFL has recommended that all leagues adopt a two-stage reduction to current Allowable Player Payment (APP) for 2020," said Bailey and Mitchell.
"AFL Outer East supports this recommendation and will implement this in 2020."
The first stage recommends a 50 per cent reduction in APP caps for 2020. The second stage is a further, pro-rata reduction based on the number of games fixtured in a shortened season.
Therefore, if a competition had a $100,000 APP cap per club, that would be reduced to $50,000 in stage one, and to $25,000 in stage two if, say, only nine rounds of an originally fixtured 18-round season could go ahead.
Revised caps for AFL Outer East competitions will be advised next month, once their structures are confirmed.
Looking beyond this year – given the financial hit already experienced by clubs, and the predicted fallout to come – there is also set to be further reductions in APP from 2021.
"Supporting clubs through a reduction in costs remains a priority for AFL Outer East," said Bailey and Mitchell.
"Clubs will be presented with a full breakdown of pro-rate calculated fee and changes, other proposed discounts, and savings over the coming weeks."
On the junior football front, all clubs support a 2020 return, with 72 per cent of those supporting the notion of a limited or no pre-season.
"Should current AFL Victoria restrictions be removed on May 31st as is currently planned, a return in mid-June is preferred," the Outer East statement read.
"AFL Outer East will look at a variety of measures to provide junior participants with the opportunity to play football this year, including midweek night games in lieu of training (77 per cent clubs supported this, with Wednesday and Friday) and lightning premierships/round robins in August and September (86 per cent of clubs) if a full season cannot be played.
"79 per cent of junior clubs have indicated that they would like a move to odd age groups in 2021, allowing players in the under-16 and 18 age groups the opportunity to have a final year in a top-up age group (under-17 and under-19) in 2021. Senior clubs are being consulted on this measure, with a decision announced in due course."
AFL Outer East also announced that women's and veterans' footy competitions would return in line with the senior competitions.
A large reason for the air of confidence stemming from AFL Outer East about season play in 2020 is that 90 per cent of all junior and senior clubs supported seasons being completed in October, if required.
"That provides greater flexibility to start and complete a 10-round season as late as the first week of August," Bailey explained.
"With venues available without cricket pitches, we have the ability to facilitate this."