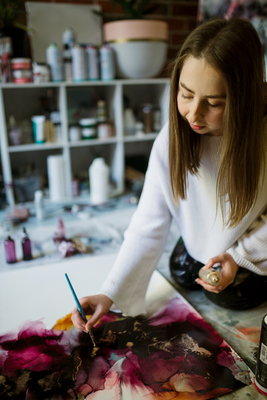 By Brendan Rees
A Melbourne artist has expressed her excitement after her work was featured in a Cranbourne renovation during an episode of House Rules recently.
"When Nancy from Art Lovers Australia called me late one evening with the exciting news my work had been chosen, we both giggled excitedly as the contestants had asked to split my painting into a diptych, and I had titled it 'Can't be broken'," Fern Siebler , a self-taught artist, said.
Her artwork aired on Sunday 20 March as part of the renovation by contestants Lenore and Bradley for local Cranbourne couple Kayne and Aimee's home – which was the opportunity of a lifetime for Fern to launch her work in the national spotlight.
The Channel 7 series, this year called House Rules: High Stakes, is the first to feature a partnership with Art Lovers Australia – bringing home grown Australian artists into the picture with a focus on original work that is selected as the centrepiece of each renovation.
The artwork is an expressive abstract with a composition of soft earthy pinks and greens amongst bold black and grey, balanced with Fern's signature sparkling gold detailing.
Fern, who grew up in the regional Victorian town of Taggerty and now lives in Eltham, says the painting has a very special and deep meaning which "were inspired by strength."
"Even when we might have things happen to us that are bad, we can't be broken," she says. "I'm a true believer that if we fall, we rise stronger than before. We are filled with more knowledge, self-love and strength than before whatever it was that happened, and for that we will be forever more filled with love and gratitude. This is powerful."
Fern, a trained graphic designer, says now more than ever it is important for people to immerse themselves in art, and help support our local Australian arts community through this difficult time.
"Art has pulled me out of many really hard times in my life, I find the process of creating healing and therapeutic."