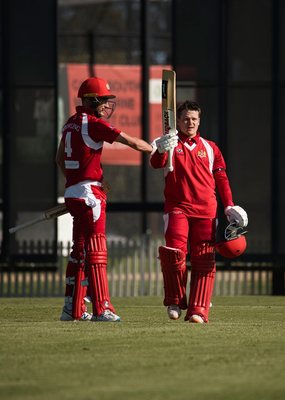 By sports editor Russell Bennett
Casey-South Melbourne Premier cricketer Jordan Wyatt can still vividly remember when he first approached his parents to tell them he was struggling.
It was in November of 2010, and he was just 17.
He broke down in tears as he told them of the mental health battles he'd been facing – of what he'd been burying deep down inside.
Now, at 27 and nearly a decade on, the Drouin local's efforts to help others emerge from the darkness and isolation of stigma have yielded truly extraordinary results.
At the start of the Swans' season, the Star News reported on Wyatt's pledge to donate a dollar for every run he scored throughout the 2019/20 campaign, with all of that money going to initiatives run by mental health charity Mindfull Aus – run by Wyatt's close friend, Matt Runnalls.
Runnalls' is a story that's far from uncommon. In fact, it comes from a situation that's so eerily similar to that faced by thousands of people across the country. But yet it's one so often left alone – left unspoken under the guise of a 20-something-year-old's perceived cloak of invincibility, or the fear or awkwardness of speaking up.
Since he was 17 – the very same age Wyatt was when he first opened up – Runnalls has battled severe anxiety and depression, which led to several suicide attempts. He's also lost eight close mates who were facing their own mental health battles and couldn't find a way through the darkness.
So Runnalls refuses to shy away from his battle. He embraces it and hits people right between the eyes with his cold, hard, truth.
It's that mentality which has inspired Wyatt and he, in turn, has been a shining light in the lives of countless others doing it tough.
That has manifested in a range of people and organisations rallying behind his cause to raise funds for Mindfull throughout the Premier season.
Spurred on by the support he received, Wyatt scored over 500 runs in all forms and recorded his maiden first XI ton – 107 in Round 16 of the season against Ringwood, with a Mindfull sticker proudly displayed on the back of his blade.
The total amount of money he raised – which was boosted by some even matching his contribution dollar-for-dollar – topped a whopping $3200.
"There are so many people who've supported me and backed me in to do a good thing with this, and I'm honestly just so honoured," Wyatt said.
"A lot of the people who have donated are really close to me, so they know the struggles I've had in my time and they've rallied around and supported me.
"It's just such an amazing feeling to have a positive impact on the community and to give back, because I've been supported through tough times so I'm just so proud to be able to do this in return.
"Hopefully it's been able to start up plenty of conversations for people who are struggling – I know a number of cricketers, for example, who have stepped away from the game for mental health reasons and that just goes to show how close to home this really hits.
"When you feel like you can't speak up, you try and hide yourself away.
"I started speaking with a psychologist early, when I was 17, but it's not easy for most people to talk about it.
"Because I am open about my battle, I felt like I had to do something to help other people."
Wyatt is a learning support worker who's studying to be a teacher. He said part of the motivation to raise money and awareness for the cause was hearing of the passing of a number of local school students who'd battled their own demons.
"That had a massive impact on me, and I think that was a real driving force because I just didn't want to hear those stories anymore," he said.
"It's so important to have these conversations around mental health at a younger age because I think young people are a demographic we can really turn the tide for – especially younger men.
"It was just so great to see Wellsy (Longwarry footballer Jason Wells) come out with his own story last week, and to raise money through his footy career.
"I went to primary school with him, so to see him taking the initiative as well was just awesome."
Runnalls is simply blown away by the selflessness shown by his great mate.
"And, fittingly, what a great season the bloke had in cricketing terms – to produce 500-plus runs, including his maiden first XI ton," he said.
"It just goes to show that when you live on purpose and something greater than yourself, the universe will find a way of giving back.
"What Jordy has been able to do is start thousands of meaningful conversations across the country, and he's also inspired other sportspeople to come forward to me, and to mimic his behaviour.
"I'm so proud of him and I just can't wait to watch him go about it next year.
"He's an absolute role model for everyone – not only in Gippsland, but at Premier Cricket level."
The money raised by Wyatt – all $3252.31, to be exact – will fittingly go towards the further development and implementation of the primary school program at Mindfull Aus, 'Healthier hearts and lighter minds'.
"It's early intervention aimed at kids as young as three to four, right through to 12, to encourage them to love themselves, be themselves, and believe in themselves," Runnalls explained.
"When kids believe in the person they are, and love who they are, they'll feel comfortable to speak out about the things they experience. We want kids to be able to talk about what they're going through – to own who they are and to be proud of that person – to not give up in those challenging times.
"There's no one we can't love once we've heard their story.
"In terms of what Jordy and Jay (Wells) have done – this is what we need, everyday blokes stepping forward and not hiding in the shadows of stigma.
"If we continue to hide it, it's always so much more difficult to deal with on our own."
For more information about Mindfull, search 'Mindfull Aus' on Facebook.
Anyone needing help can contact Lifeline on 13 11 14.