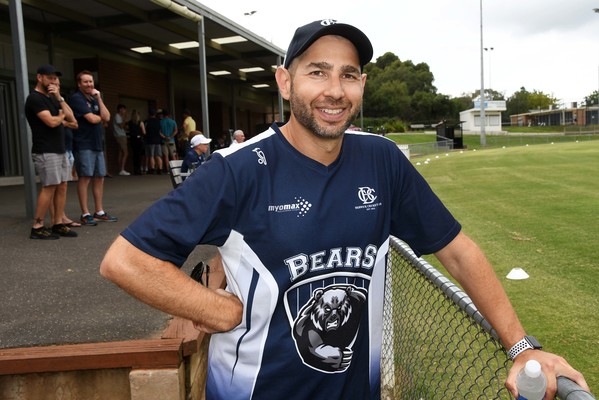 By Nick Creely
There's going to be a new Carr permanently parked at Casey Fields in 2020/21.
Casey-South Melbourne has made its first key announcement of the Victorian Premier Cricket off-season, with ex-Victorian quick and Berwick DDCA Turf 1 premiership coach Will Carr signing a three-year deal at the Swans.
Carr – who played six First Class matches and one List A game for Victoria in the early 2000s – will take over from current head coach Brian Keogh in a succession plan for the Premier Cricket club in 2021/22, which will see the 43-year-old take over the main role after one year as a senior assistant coach.
While juggling his commitments with the Bears in the Dandenong District Cricket Association, Carr also served as a specialist bowling coach for the Swans last season and made a serious impact on the playing group, which will be looking to take another step with some more stability in the coaching staff.
Swans president Shaun Petrie said in a club statement that the Swans were delighted to welcome Carr on-board after lengthy discussions with Brian Keogh about the future direction of the club.
"One of the first long discussions we had was about a succession plan," he said.
"We agreed that stability is one of the most important ingredients in any sporting club's success.
"A succession plan, we agreed was absolutely crucial in our thinking.
"When we approached Will for a coaching role for 2019/20, we knew that he had lots of responsibilities, including coaching his former junior club, Berwick CC, to what became a premiership season in the DDCA Turf 1 competition.
"This meant that Will's time at Casey Sth was going to be limited. We understood that and it worked very well, but there was always a bigger picture and longer term strategy."
Petrie praised Keogh for his selflessness in the decision, and said it would hold the club in good stead moving forward.
"BK first muted the idea about stepping down and letting Will take over as head coach in the near future," he said.
"This is a real testament to everything that we as a club and Brian stands for. A club first attitude.
"This idea would never have worked without Brian's club first ethos.
"Now that strategy has come into fruition. BK, myself and the committee couldn't be happier with the announcement and we welcome Will Carr to the Bloods for the next three years."
The club is expected to make more key announcements in the near future.